You know how I am still afraid of the monster under the bed? Well, I was certain that I wouldn't be too keen on a ghost either, but apparently I was wrong. Sunday morning after I had settled down on the couch with a fresh cup of coffee, I was visited by a real life ghost! At first I was shocked. A GHOST! After the initial surprise wore off though, I realized he was actually kinda cute and not that scary at all. I know all this would be hard to believe, so I took a picture. It's kinda hard to see, but I think you will be pretty impressed with my photography skills.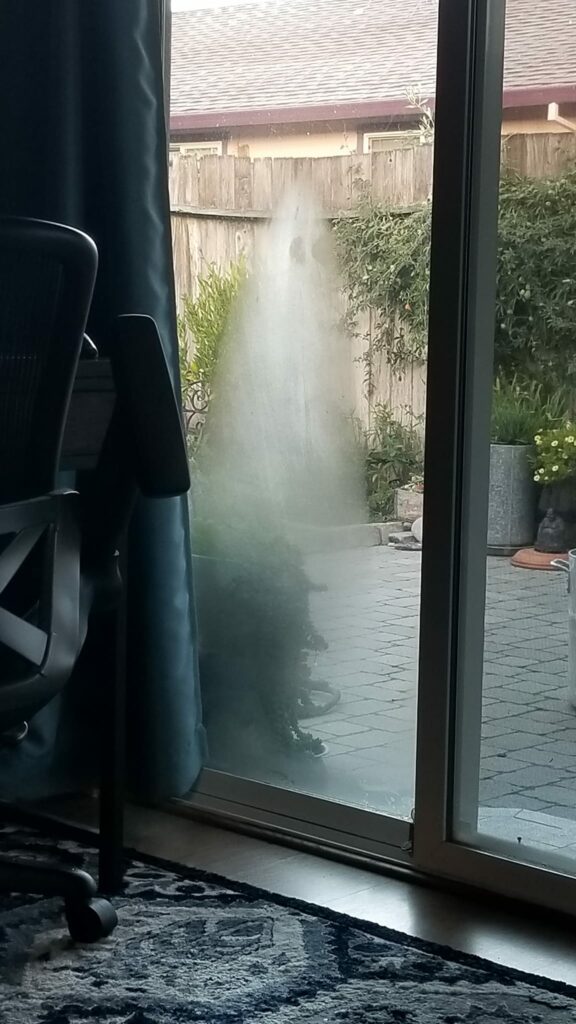 Alone In The Light
by Benjamin W. Bass


(160 Reviews)
Genre: War | Thrillers
FREE for a limited time
Alone In The Light:
Two years and 6,000 miles away from the explosion that took his leg, Josh Carpenter struggles to reclaim his former life as a college student.
Mary Fischer, a civilian for the first time in years, strikes out on her own to create a new, independent life away from the army and her controlling mother.
The last time Josh saw Mary, his National Guard unit was leaving Kuwait, headed north to the war.
The last time Mary saw Josh, she watched as his unconscious body was rolled onto a plane bound for a hospital in Germany.
As they navigate their new lives, Josh and Mary come ever closer to a reunion that has the potential to heal the traumas of war… or compound them.
Click here to get this book for FREE
° ° ° ° ° ° ° ° ° ° ° ° ° °
Always You
by Lizzie Morton


(42 Reviews)
Genre: Literature & Fiction
FREE for a limited time
You never forget your first love, and mine and Jake's was the kind songs are written about.
If only I knew then that the one who taught me how to love, would be the one to shatter my heart into a million unrecognizable pieces, leaving me to clean up the mess.
Now, I'm back in Brooklyn with one goal: avoid him at all costs. Unfortunately fate has other ideas, entangling our lives and making it virtually impossible.
My wild friends and crazy family agree I should steer clear of him, but everything becomes irrelevant when we're together. It's heart-stopping, gut-wrenching, and my mind is plagued with 'what if'.
I'm left questioning if what I thought was the end of our journey was only the beginning.
The heart wants it wants, and mine wants Jake, always.
But sometimes in life happily ever afters don't come easily, and ours might prove impossible.
**Always You is Book 1 in the Always Series. This book is part one of a trilogy and is not a standalone.**
Click here to get this book for FREE
° ° ° ° ° ° ° ° ° ° ° ° ° °
The Bow of Destiny (The Bow of Hart Saga Book 1)
by P. H. Solomon


(122 Reviews)
Genre: Science Fiction & Fantasy
FREE for a limited time
Haunted by his past. Hunted in the present. Uncertain what is real.Athson suffered hallucinations ever since he was orphaned, including a dog no one else sees. The will in his possession, bestowed in a dream, can't be real. But the trolls now hunting him are. A destiny, both inconvenient and unavoidable, drags Athson into an unwanted quest that challenges all his assumptions.
Can he trust anyone?
Sworn to secrecy by his dead father about the bow, Athson wants nothing to do with it. A dragon and a wizard want the bow – and Athson dead. Running from the quest and his destiny are tempting options.
Then he finds something unexpected. Will his discovery destroy him before he recovers the bow?
If you love classic fantasy with new ideas, read The Bow of Destiny because it's quietly addictive. Get it now.
This is BOOK ONE of The Bow of Hart Saga. The other two books have been released: BOOK TWO: An Arrow Against the Wind BOOK THREE: The White Arrow The entire series is now available on Audible.
Reactions to The Bow of Destiny: Awards: Fantasia Reviews 2016 Book of the Year Solomon has his own signature touch that gives us not only something original and unique but will leave many fantasy readers waiting for more -… one can almost see the trail, and fear the trolls – the characters are still dancing around in my head, the sign of a fantastic journey –
Author's Note: This is an epic fantasy featuring a dragon, magic, mystical characters, wizards and other fantasy denizens. The story is most important while the bow, the sword and sorcery set the stage.
Click here to get this book for FREE
° ° ° ° ° ° ° ° ° ° ° ° ° °
BUM RAP (Lassiter, Solomon & Lord Legal Thrillers Book 1)
by PAUL LEVINE


(2,739 Reviews)
Genre: Law | Thrillers | Crime Fiction
FREE for a limited time
#1 AMAZON BESTSELLER "BUM RAP"
The First "Lassiter, Solomon & Lord" Thriller
A mysterious bar-girl goes missing from a South Beach club… A Russian gangster is shot dead… And Steve Solomon holds the smoking gun.
Can Jake Lassiter get Solomon off the hook?
BUM RAP is the novel that brings Lassiter together with squabbling Miami lawyers Steve Solomon and Victoria Lord. In a tale filled with startling twists, Lassiter digs deep into the underbelly of glitzy South Beach to defend a client who's not telling him the truth.
All of the author's novels are stand-alones that may be enjoyed in any order.
Click here to get this book for FREE
° ° ° ° ° ° ° ° ° ° ° ° ° °
THE BORDER LEGION: Wild West Adventure
by Zane Grey


(189 Reviews)
Genre: Westerns | Romance
FREE for a limited time
The Border Legion is a Western novel. It tells the story of a cold hearted man named Jack Kells who falls in love with Miss Joan Randle, a girl his legion has taken captive near the Idaho border. The Border Legion was adapted to film, in 1918, 1924, 1930, and in 1940. The film The Last Round-Up (1934) starring Randolph Scott, was also based on the novel.
Zane Grey (1872-1939) was an American author best known for his popular adventure novels and stories that were a basis for the Western genre in literature and the arts. With his veracity and emotional intensity, he connected with millions of readers worldwide, during peacetime and war, and inspired many Western writers who followed him. Grey was a major force in shaping the myths of the Old West; his books and stories were adapted into other media, such as film and TV productions. He was the author of more than 90 books, some published posthumously and/or based on serials originally published in magazines.
Click here to get this book for FREE
° ° ° ° ° ° ° ° ° ° ° ° ° °