Book Basset
Always on the hunt for the best Kindle deals
Good afternoon everyone. Now I know I promised you the theme of colors today but when I was out for a little adventure I came across the most adorable little hummingbird, and he or she actually let me take a picture of them sitting down! Oh so cute I just had to share! – The Apprentice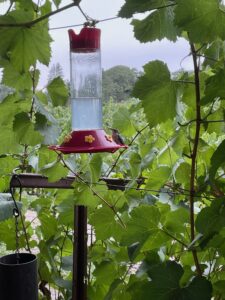 Neanderthal Seeks Human: A Smart Romance 
by Penny Reid


(4,264 Reviews)
Genre: Literary Fiction | Women's Fiction | Humor & Satire
FREE for a limited time
There are three things you need to know about Janie Morris:
1) She is incapable of engaging in a conversation without volunteering TMTI (Too Much Trivial Information), especially when she is unnerved,
2) No one unnerves her more than Quinn Sullivan, and
3) She doesn't know how to knit.
After losing her boyfriend, apartment, and job in the same day, Janie Morris can't help wondering what new torment fate has in store. To her utter mortification, Quinn Sullivan — aka Sir McHotpants — witnesses it all then keeps turning up like a pair of shoes you lust after but can't afford. The last thing she expects is for Quinn to make her an offer she can't refuse.
Click here to get this book for FREE
° ° ° ° ° ° ° ° ° ° ° ° ° °
Dead Stars – Part Two (Emaneska Series Book 4)
by Ben Galley


(144 Reviews)
Genre: Fantasy
FREE for a limited time
The Arka have chosen their champion, and now he must lead them to the top of the world – The Spine, where the black mountains belch fire, and where the battle against cataclysm will take place upon the ice. As they travel north in a warship clad in iron, the Krauslung they leave behind is crumbling. Not under the onslaught of the girl and her daemons, but from within, under the force of greed and poisonous ambition. It seems there are too many battles to fight. Now, with the Sirens silent, the frozen north in uproar, and the responsibility mounting, Emaneska's champion must face a choice.
Click here to get this book for FREE
° ° ° ° ° ° ° ° ° ° ° ° ° °
Opus Magnum II: Pearls of Worthless Wisdom
by Abu Kasem


(9 Reviews)
Genre: Humor & Satire | Humor & Entertainment | Foreign Languages
FREE for a limited time
Following the trailblazing and heroic endeavours of its predecessor, the Opus Magnum Volume II furthers the exploration of absurd worlds, preposterous possibilities and ignored presents in what could be deemed "the most successful, original and funny second part to an obvious first part".
The quills of Abu Kasem and his collaborators conjure realities that, hopefully, will make you laugh.
If not, we do apologise profusely.
Given that these lines are usually written by marketing experts, and we both abhor and forego them, you might also forgive the scant words that should theoretically draw the probable reader to buy this very book… yet we trust that our roguish attitude and lack of compliance are enough for you to feel compelled to read on.
Click here to get this book for FREE
° ° ° ° ° ° ° ° ° ° ° ° ° °
Hunter's Rage 
by Michael Arnold

(112 Reviews)
Genre: Action & Adventure | Historical Fiction
FREE for a limited time
Posted to the hostile territory of Dartmoor, Captain Innocent Stryker and his men are attacked by an elite cavalry unit commanded by the formidable Colonel Gabriel Wild and suffer heavy losses.
Stryker has already clashed once with Wild, and the Roundhead has sworn to seek his revenge. After the attack, Stryker is faced with the annihilation of his company as he is hounded across the moor, eventually seeking shelter on an isolated tor populared by an enigmatic former priest who harbours no love for the King's cause.
The battle between Stryker and his old foes takes him from the bleak isolation of Dartmoor, through the war-ravaged lands of southern England and finally to Stratton, where the bloody battle between Cornwall and Devon will decide the fate of the south-west.
Click here to get this book for FREE
° ° ° ° ° ° ° ° ° ° ° ° ° °
ASSERTIVE COMMUNICATION: The Art of Communicating Effectively
by Roberto Vingelli


(32 Reviews)
Genre: Self-Help
FREE for a limited time
Would you like to be more assertive in your communication without appearing aggressive and hostile? Would you like people to support your ideas with the sole attraction of your Communication? Would you like a guide to support you in eliminating your blocks, anxieties, and fears in your daily communication with others?
If you answered YES, let this book show you exactly how to master the art of Assertive Communication without too much effort, step by step.
This book will give you the tools you need to become the best version of yourself by developing your untapped potential, which will manifest itself in all areas of your daily life through assertive communication.
Click here to get this book for FREE
° ° ° ° ° ° ° ° ° ° ° ° ° °
If you are looking for a wonderfully magical cozy mystery series to dive into then look no further than Team Destiny by author Belinda White! You will fall in love with these characters, and the mysteries will suck you in, you will be spellbound, and won't be able to put it down! Enjoy!
Team Destiny and Gray's Grave (Team Destiny Paranormal Cozy Mystery Book 1)
by Belinda White


(95 Reviews)
Genre: Fantasy | Mystery
FREE for a limited time
The Goddess called. Team Destiny answered.
Who is Team Destiny you ask? Well, we're a rag-tag bunch of witches and werewolves, with a Shaman and a couple of lawmen thrown in for good measure. When the Goddess needs help, we're there for Her.
Sounds like some kind of science fiction or fantasy movie flick, doesn't it?
Nope. Just my life as I now know it. The last month or so had been pretty quiet. No dead bodies showing up in awkward places. No crazy entities out to destroy the world. You know… the kinds of things that had become our usual challenges. The Universe appeared to be giving us a break for once.
Enough so that Mom and Dad convinced my Aunt Opal and her new husband, Ex-Sheriff Orville Taylor, to go on a belated honeymoon. Heaven knows my Aunt was long overdue for some rest and relaxation.
But wouldn't you just know that the very night after we dropped them off at the airport, all heck broke loose. Welcome to life as a member of Team Destiny. We just can't catch a break for long.
Click here to get this book for FREE
° ° ° ° ° ° ° ° ° ° ° ° ° °
Team Destiny and Archie's Apparition (Team Destiny Paranormal Cozy Mystery Book 2)
by Belinda White


(69 Reviews)
Genre: Mystery
Sometimes, dealing with family is hard.
When Mom scheduled a father and daughter shopping trip to the mall, I was more than a little anxious about it. It wasn't that I didn't like Archie. I did. It was just awkward. Hey, unless you've had a father you never knew you had thrown at you after twenty-three years on earth, don't judge me.
Unfortunately, the day turned into more than just awkward when Archie freaked out on me in the mall.
He thought he was going crazy. The reality was much, much worse. Now, as was per our usual it seemed, we were in a race against time to uncover and deal with the big baddie before it was too late for a close friend to Archie. And just maybe too late for us too. Because the big baddie we were up against this time was like nothing we'd ever faced before.
It was a really good thing we had a full team at our backs, huh?
Click here to get this book for $1.99
° ° ° ° ° ° ° ° ° ° ° ° ° °
Team Destiny and Shaman's Secret (Team Destiny Paranormal Cozy Mystery Book 3)
by Belinda White


(77 Reviews)
Genre: Mystery
How do you find a missing Goddess?
Yup. That's right. According to Destiny, my familiar, the Goddess is missing. And, as Destiny has a very personal connection to the Goddess, she should know, right?
Unfortunately, that was only the beginning. Shortly after my familiar's disturbing announcement, we got a call from Shaman Crowe. Things definitely went downhill from there.
Now we not only have to try and figure out the missing Goddess thing, but we also have to figure out who just tried to kill the Shaman. It's a really good thing I have Team Destiny to help. Isn't it?
Team Destiny and Shaman's Secret is the third book in the Team Destiny Paranormal Cozy Mystery Series. If you love mysteries with a good sense of family and a healthy dose of magic, what are you waiting for? Click that buy or read now button today and join Team Destiny in their adventures.
Click here to get this book for $2.99
° ° ° ° ° ° ° ° ° ° ° ° ° °
Good morning book lovers! The hint from today's title gives away that our theme today is colors! So here is a really pretty and colorful flower I found! Sadly, you can't eat them. – The Apprentice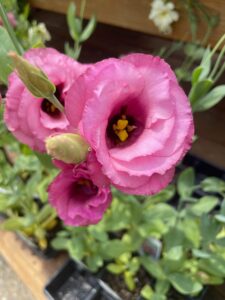 Genesis (First Colony Book 1)
by Ken Lozito

(1,735 Reviews)
Genre: Science Fiction
FREE for a limited time
A mission gone wrong… Innocent lives have been lost…
Escaping wrongful imprisonment wasn't something Connor had in mind, but being put into stasis aboard Earth's first interstellar colony ship was something he couldn't have prepared for.
For three hundred thousand colonists, the new colony brings the promise of a fresh start… a second chance. Connor might be the wrong man for the colony, but he's the right man to see that it survives what's coming.
A new world with new challenges, but the mission has changed.
Click here to get this book for FREE
° ° ° ° ° ° ° ° ° ° ° ° ° °
Night Raiders: The Story of the Legendary Unit 101 During the IDF Retribution Operations
by Uzi Eilam


(14 Reviews)
Genre: Biographies & Memoirs | History | Foreign Languages
FREE for a limited time
Lietuenant General Gadi Eizenkot, former 21st IDF Chief of Staff: "'Night Raiders' chronicles the background for the reprisal operations and lays out a profound analysis of their contribution to Israel's security. The book is of incredible historical value, but even more importantly – it is crucial for the present and future commanders of the IDF, who can use it to learn about the spirit, initiative, and expertise of the fighters and commanders of the past."
This is the fascinating story of the fighters and commanders of Paratrooper Unit 101 of the 890th Battalion, and of 202nd Brigade. The heroic reprisal operations which they carried out over the border between 1953 and 1956 allowed the IDF to give Israel's citizens relative peace.
Click here to get this book for FREE
° ° ° ° ° ° ° ° ° ° ° ° ° °
The One (Lavender Roses Book 1)
by Jessica Marlowe


(11 Reviews)
Genre: Contemporary Fiction | Literary Fiction | Short Stories
FREE for a limited time
Axl never believed in love until he met Mara. But four years later, she dumped him. Seeing her after two years at her great-grandparents' party, Axl realizes he's still in love with her.
And he's not happy about it. But it doesn't matter because she's married now.
Mara is finally putting her disastrous rebound marriage behind her. She's happy to spend a comforting weekend with her enormous, loving family. But that changes when she realizes her great-grandmother, Gigi, has invited her ex-boyfriend.
Gigi knows that Mara and Axl belong together. And she's not above using her party to give them the opportunity to see it.
The searing chemistry between them is as hot as ever, but Mara's ex-husband wants a second chance too…
Click here to get this book for FREE
° ° ° ° ° ° ° ° ° ° ° ° ° °
The Lake Never Tells
by Alex Tully


(162 Reviews)
Genre: Teen & Young Adult | Mystery
FREE for a limited time
Zoe has lived in Sunny Shores Trailer Park her whole life and she knows what the Memorial Day weekend brings — snobby rich kids who serve as a constant reminder of how pathetic her life really is. So when she meets Ethan, the awkward boy from the exclusive community of Crystal Waters, she can't help being intrigued. He's different but in a good way. Along with her stand-in little brother Parker, and her best friend Meredith, the four of them form an unlikely friendship. But one morning, their idyllic summer is turned upside down when a dead body washes up on the beach…
Click here to get this book for FREE
° ° ° ° ° ° ° ° ° ° ° ° ° °
Peter Pan 
by James Matthew Barrie

(2,956 Reviews)
Genre:
FREE for a limited time
For more than a century, the adventures of Peter Pan — the boy who can fly and never grows up — and Wendy Darling have captured the hearts of generations of readers. In this enchanting illustrated volume, the fantastical world of Neverland and its magical inhabitants, including the Lost Boys, Captain Hook, Tiger Lily, and the beloved Tinker Bell, are brought to life like never before.
Click here to get this book for FREE
° ° ° ° ° ° ° ° ° ° ° ° ° °
Good afternoon everyone! I feel like gardening doesn't always get the credit it deserves and so I wanted to shed some light on the subject...*insert evil genius laugh* - The Apprentice The Event (The Survivors Book One) by Nathan Hystad [show_stars asin='B079LZR278'...
read more