Book Basset
Always on the hunt for the best Kindle deals
Here For You by Nora Valters is the gripping psychological thriller perfect for fans of Mark Edwards, K.L. Slater and Miranda Rijks. Grab your copy today!
Here For You: A gripping psychological thriller
by Nora Valters


(12 Reviews)
Genre: Literature & Fiction
A fresh start… or a living hell?
Jess's life is back on track again: the messy divorce, bitter inheritance feud, and terrifying home invasion are well and truly behind her.
After two years abroad, she is excited for a new beginning in a sleepy English seaside town where nobody knows her.
So when Jess is attacked in the street, she thinks it's rotten luck – her troubles are firmly in the past, after all. But, as more creepy things start to happen, she becomes convinced she's being targeted.
As the frightening events escalate, Jess is certain someone she thought she'd left behind has finally caught up with her – and they want revenge. But who? And just how far will they go to push her over the edge and into oblivion?
Click here to get this book for $0.99
° ° ° ° ° ° ° ° ° ° ° ° ° °
Apparently scientists have created pineapple flavored strawberries. These modern day Mad Scientists are less evil and more just weird. Gone are the days of them creating monsters to terrorize little towns. Now they are making strawberries that taste like pineapples. Certainly odd, but not MWAHAHAHA kinda evil. They might be able to cause a tiff if someone tries to put it on a pizza. There might even be a shouting match. Probably not, but it's possible.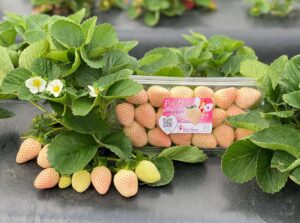 Cozy Leading Ladies
by Multiple Authors


(213 Reviews)
Genre: Mystery
FREE for a limited time
COZY, CLASSIC TALES OF MURDER AND ROMANCE
A yummy anthology containing FIVE top-rated cozy mysteries, each featuring smart and savvy ladies — who aren't afraid to kick some butt. PLUS a romantic puzzler bonus, which isn't at all what you might expect…
From murder at a conference in fashionable Provence to an underground feminist bordello in San Francisco (with a pit stop on the Gulf Cost where a killer's on the loose while a hurricane closes in), Cozy Leading Ladies is sure to satisfy mystery readers who love their independent female sleuths. (Friendly piece of advice: it's probably best to read the collection with a box of chocolates or your favorite brand of potato chips really nearby).
Vol. 1: DEATH TURNS A TRICK, the FIRST book in the Rebecca Schwartz mystery series by Edgar Award Winner Julie Smith
A ROLLICKING TALE OF MURDER, ROMANCE, AND A BORDELLO…
Rebecca Schwartz, nice Jewish lawyer with a few too many fantasies, is happily playing the piano in a whorehouse when she suddenly finds herself assigned to make sure a near-naked state senator escapes a police raid. That dirty job done, a lovely evening turns even more delightful when she's picked up by the cops and spends the next two hours at the Hall of Justice. Could this day get any worse? Of course! Guess who arrives home to find a dead hooker on her living room floor?
Vol. 2: THE AURA, the FIRST Kate Benedict Paranormal Mystery by Carrie Bedford
Life spins out of control for London architect Kate Benedict when she sees a dancing aura above certain people's heads that seems to signal death. Suddenly she's psychic. But that can't be! Psychic's not acceptable in her circle, where the supernatural is strictly for the superstitious. And yet… people are dying. People close to her.
Vol. 3: THE 13th FELLOW, A Mystery In Provence by Tracy Whiting
POETRY, MURDER, BEAUTIFUL PEOPLE… AND PROVENCE!
American Professor Havilah Gaie has always seen herself as "an academic version of Pam Grier's characters: smart, quick on their feet, loyal with a keen sense of purpose." Now she's got a chance to suit up for action because suddenly she's a witness in a murder.
Vol. 4: HURRICANE SEASON: Florida Panhandle Mystery #1 by Michaela Thompson
"Miss Marple meets Eudora Welty (with a trace of Erskine Caldwell)" -Kirkus
The 1950s fairly leap off the page in this classic cozy mystery set in northern Florida in the Eisenhower era, complete with Johnny Ray on the jukebox and a Womanless Wedding — this one interrupted by an explosion at a moonshine still. Lily Trulock, owner of Trulock's Grocery & Marine Supply, leads a pretty quiet life until a stranger comes to town. Before she can say, "down the hatch," Lily's at the center of a vicious murder and a no-holds-barred bootlegging war — and a nasty storm's on the way.
Vol. 5: PICK-UP LINE A New Orleans Love Story by Patty Friedmann
ROMANCE IS THE BEST PAIN-KILLER…
Cupid's working overtime in the unlikely venue of N.O. Drugs, where plus-sized beauty Ciana Jambon works with dread-locked pharmacy student Lennon Israel, and she's got the crush of the century. Unbeknownst to her, Lennon's carrying his own torch, but family problems distract both of them until tragedy leaves Ciana reeling. Lennon wonders if there's a murderer in her clan, and he's pretty sure he's the only one who can help.
BONUS! DIAMONDS IN THE SKY: A mysterious Southern Love Story by M.A. Harper
Click here to get this book for FREE
° ° ° ° ° ° ° ° ° ° ° ° ° °
Erinyes
by Scott McElhaney

(201 Reviews)
Genre: Science Fiction
FREE for a limited time
The IG Andromeda, a Universal Command Science Ship, has just successfully jumped over 160,000 light years into the Large Magellanic Cloud, giving the ship and its crew the honor of being the first to travel to another galaxy. One of these crewmembers, Donovan Rost, was recently presented with an honorary commission as an Ensign in the Universal Command. It appears that the only thing he did to earn such a commission was a simple act of surviving a long time in cryostasis… a very, very long time. Donovan came from a 21st century Earth – an Earth that used to be dominated by humanity. Now, man is a minority and all that he knew of his civilization is buried and almost completely forgotten. He's about to learn why he and five others were revived and why they were now searching the Large Magellanic Cloud for a technological race that the crew is certain exists somewhere in that galaxy.
Brought to you by the international bestselling author of the Mystic Saga, Vestige, Dominion, Ghosts of Ophidian, and his newest science fiction series The Ani Maxima Files. With over 300,000 books downloaded worldwide, Scott McElhaney continues to prove that reasonable Kindle prices do not have to mean poor quality. Also check out Maelstrom, Endeavor, Beyond the Event Horizon, and One Crazy Summer by McElhaney.
Click here to get this book for FREE
° ° ° ° ° ° ° ° ° ° ° ° ° °
Fun Educational Jokes for Kids: With amusing facts about food, animals, biology, science, and geography
by Curious Roobi


(2 Reviews)
Genre: Foreign Languages | Education & Teaching | Children's eBooks
FREE for a limited time
Do you want your kids (6-12) to genuinely enjoy learning instead of playing with their phone? Then you need to keep reading…
I was invited to my cousin's house and I witnessed a weird moment of a helpless mom trying to distract her daughter with youtube just to be able to feed her !!
That's a simple example but the deeper problem is that sometimes we are so exhausted from work or just discouraged from all the things that need to be done around the house.
This sometimes leaves us with not enough time to invest in entertaining the kids. Inevitably kids end up spending too much time on the screen.
Scientific research done by Common Sense Media found that kids aged 8 to 12 year-olds in the United States now use screens for entertainment for an average of 4 hours, 44 minutes a day.
Same study shows the screen addiction gets worse as they grow older where 13 to 18 year-olds are on screens for an average of 7 hours, 22 minutes each day!!
It is not a dream to have a kid who picks up a book and is genuinely interested and engaged in reading it,
It is possible to share quality moments and laughter with the kid and their grandparents.
Your child's self esteem will boost from telling funny silly jokes to guests. He/she will not be shy and will be genuinely excited to share fun facts with his/her friends. This will improve social acceptability among their friends.
In the Fun Educational Jokes for Kids book you will find :
• Hilarious jokes related to science combined with fun facts to help kids learn autonomously while having fun.
• Organized jokes and related fun facts about science, food, biology, chemistry, geography.
• Tons of amusing illustrations to keep the kids amused and engaged.
• Riddles, Puns and fun facts.
• Jokes from different countries with related information like capitals, flags, currencies, and neighbouring countries.
• How to use their creativity and write jokes.
In her book, Neurologist Judy Willis showed how fun experiences increase levels of dopamine, endorphins, and oxygen – all things that promote learning.
Even if your child is hyperactive or has a short attention span, this book has been designed by a team comprised of a scientist, a researcher, a psychologist and an artist over a year with the intent of keeping the kids engaged, eager to learn and eager to have fun.
Click here to get this book for FREE
° ° ° ° ° ° ° ° ° ° ° ° ° °
The MacKinnon's Bride (The Highland Brides Book 1)
by Tanya Anne Crosby


(3,647 Reviews)
Genre: Historical Fiction | Romance
FREE for a limited time
From a New York Times Bestselling Author, and a Romantic Times Top Pick, The MacKinnon's Bride brings us love, honor, suspense, passion–all the good things we love in a Highlander Romance.
When laird Iain MacKinnon's young son is captured by the English, the fierce Scottish chieftain retaliates in kind, capturing the daughter of his enemy to bargain for his son's return. Fiercely loyal to kin, Iain never imagines any father could deny his child–or that he would become Page FitzSimon's savior. "Keep her, or kill her!" FitzSimon proclaims when Iain forces his hand. So, what else should a good lad do, but carry the lass home–without telling her the truth: Her father doesn't want her. But even as Page blames her reluctant champion for welching on a bargain with her father, she suspects the truth… the shadows hold secrets… and danger. Now only love can save MacKinnon's fiery new bride.
Click here to get this book for FREE
° ° ° ° ° ° ° ° ° ° ° ° ° °
A Partnership Against Injustice: A Historical Western Adventure Book
by Henry McConley


(93 Reviews)
Genre: History | Romance | Westerns | Classics
FREE for a limited time
After losing their family, Luke and his brother moved to Lion's Tooth for a new beginning. Luke is a handyman, trusted around town for his genuine kindness. While he's helping his brother get ready for a hunting trip, he wishes he could go too, but he has a lot of people in town counting on him. However, when his brother and the rest of the hunting party cease contact for a span of two weeks, he begins to regret not going. Determined to get to the bottom of the mystery, the town decides to send Luke along with an unexpected group of people to find out what's going on. Luke experiences situations that put his skills and allegiances to the test while he fights to make it back to Lion's Tooth. Will he manage to get through the trials ahead or is it too late for him to save his brother?
Luke has had eyes for Penny since he moved to Lion's Tooth ten years ago but he kept his admiration for her a secret. Even though Penny has no relation to any of the men in the hunting party, Luke is overwhelmed by the fact that she volunteered to join the rescue team. He tries to open up about his feelings as they travel the long miles but the terrifying thoughts are haunting him. When the dangers of the wilderness become more than the group bargained for, he knows that Penny might be his only hope to ever find his brother. Will a new love flourish amidst this treacherous pursuit or will this quest bring not only Luke's, but also Penny's demise?
As this unusual adventure brings Luke and Penny closer, they are convinced that if they live through this mission, their lives will never be the same again. Luke depends on Penny's friendship but as the danger spirals out of control, will they manage to survive the greatest challenge of their life?
Click here to get this book for FREE
° ° ° ° ° ° ° ° ° ° ° ° ° °
The sun keeps shining through the window, calling me to come out and play. I walk outside and Winter slaps me across the face, laughs, runs away. Jerks
The Gone Sister: A Mystery Novel (Lee Callaway Book 2)
by Thomas Fincham

(734 Reviews)
Genre: Mystery | Literature & Fiction
FREE for a limited time
How do you find someone who doesn't exist?
With over 500,000 copies sold and thousands of 5-star reviews between them, the Lee Callaway series will leave you turning the pages to know what happened next.
Isaiah Whitcomb is found dead in a parked car. Isaiah is a promising athlete and he also happens to be Detective Greg Holt's nephew. It's personal for Holt and he will stop at nothing to find who is behind his nephew's murder.
Private Investigator Lee Callaway is having a terrible day when Elle Pearson, a blind woman, appears at his door. Elle wants him to find her missing sister. The only problem is no one has seen or heard of her sister.
How is Isaiah's death linked to Elle's missing sister? And who is the mysterious stranger looking to avenge a betrayal from years before?
As Callaway gets closer to the truth he is faced with the biggest shock of his life.
Fans of James Patterson, Harlan Coben, and David Baldacci will love this bestselling series.
Click here to get this book for FREE
° ° ° ° ° ° ° ° ° ° ° ° ° °
A Cowboy's Reunion: A Sweet Western Rockyview Romance (Family Ties Book 1)
by Carolyne Aarsen


(623 Reviews)
Genre: Contemporary Fiction | Classics | Religion & Spirituality
FREE for a limited time
He's still reeling from her breakup. She's ashamed of abandoning him to chase her musical dreams. Can a chance reunion mend the fence, or are some hearts forever broken?
Kane can't face running his foster family's ranch alone. By now he'd hoped to live on the property with his wife and children, but his ex-fiancée's betrayal threw a wrench into his dreams.
Despite his anger, after he discovers his former flame down and out, he knows providing shelter is the right thing to do.
Faith Howard always dreamed of entertaining audiences with her guitar and even sacrificed a future with a good man to follow her heart.
But life on the road didn't turn out like she hoped and now she's broke and out of luck. When her Kane selflessly offers help, she can't help but be riddled with guilt.
As the estranged couple recovers from the past, a friend of the family drops off two toddlers and heads for the hills.
Will Kane and Faith's new role as surrogate parents help them heal old wounds and find a second chance, or will the weight of too much baggage push them apart?
A Cowboy's Reunion is the first book in a sweet western romance series. If you like second chance stories, buried passions, and big country settings, then you'll love this heartfelt novel.
Click here to get this book for FREE
° ° ° ° ° ° ° ° ° ° ° ° ° °
A Sip Before Dying (Wine & Dine Mysteries Book 1)
by Gemma Halliday


(460 Reviews)
Genre: Mystery
FREE for a limited time
From #1 Amazon & New York Times bestselling author Gemma Halliday comes the USA Today bestselling new series full of mystery, laughter, and romance in wine country…
The Oak Valley Vineyard has been in Emmy Oak's family for generations. So when the small Sonoma winery is suddenly in financial trouble and in danger of being gobbled up by the corporate giants, Emmy moves home to try to save her legacy with her modern culinary know-how. First step — she throws a party showcasing her latest vintage and signature tasty treats to a group of wine country's most elite enthusiasts. Only when one of her VIP guests sips a glass of poisoned wine and dies in her cellar, Emmy's name is on everyone's lips for all the wrong reasons.
The victim was the young, boy-toy husband of one of Silicon Valley's most successful female CEOs… and his playboy ways and suspicious spending habits have almost no one mourning his death. Enter Detective Christopher Grant, recent SFPD transplant, who is assigned to the case and immediately homes in on Oak Valley. But Emmy is determined to clear her winery's name — even if Grant's dark eyes, sexy smile, and mysterious past threaten to distract her. After calling in the big guns to help her — a.k.a. her jewelry designer best friend and copious amounts of cookie dough ice cream — Emmy finds herself digging through a slew of suspects to uncover crimes, grudges, and secret affairs that could put a soap opera to shame. Can Emmy find out just which of the upper crust poisoned the victim's vintage… or will Emmy's next sip be her last?
Click here to get this book for FREE
° ° ° ° ° ° ° ° ° ° ° ° ° °
GHISLAIN AND TRAHAEARN (The GHISLAIN series.)
by LARRY K. LANDAU


(23 Reviews)
Genre: Action & Adventure | Historical Fiction
FREE for a limited time
Both young and old will enjoy this heartwarming tale of a boy who, at sixteen years of age, returns from the summer pastures higher up in the mountains, where he had been watching and caring for his father's sheep, only to find their home ransacked, the stables burned to the ground, and all the animals, including the dogs, killed. Then he saw the three freshly dug graves it looked like. Their family name, d'Aboux, was scratched on a large boulder. Momo, the wheelwright and blacksmith, was a good friend. He'd know what happened here. As he sat on the ground, contemplating what to do next, he saw the little puppy coming towards him. Margot, a mostly white Pyrenean Mastiff lay dead inside the still smoldering stables. Her pups were scattered about here and there. It was obvious that they'd been brutally murdered, all except for this little black and white one. Ghislain's mind, which was going blank with the shock of it all, suddenly perked up as he called the pup "petit bonhomme", or little fellow, and gathered him into his arms.
Click here to get this book for FREE
° ° ° ° ° ° ° ° ° ° ° ° ° °
Greek Takeout Cookbook: Favorite Greek Takeout Recipes to Make at Home
by Lina Chang


(110 Reviews)
Genre: Cookbooks, Food & Wine | Travel
FREE for a limited time
Prepare your favorite Greek takeout recipes at home!
Download FREE with Kindle UnlimitedGreek cuisine is a remarkable blend of East and West. It is Mediterranean cuisine at its best with diverse influences. From the East are the touches of exotic spices, and from the West are the Italian additions of garlic and tomato. Greek dishes make use of fresh produce and what is abundant in different regions in Greece such as grains, legumes, vegetables, meat, seafood, olive oil, and rice. To savor Greek cuisine is to savor history, culture, and love. Every Greek home cook prepares dishes using the freshest ingredients – thoughtfully seasoned with herbs and spices – prepared in age-old tradition to preserve nutrients, for a happy and healthy family.
Inside find:
• A brief history of Greek takeout food.
• Ingredients used in Greek cooking, cooking methods and required cooking equipment used to prepare Greek meals
• Easy to prepare appetizers like the Zucchini Fritters or the Fried Calamari
• Traditional salads like the Classic Greek Salad or the Marouli Salad
• Heartwarming soups like the Avgolemono, a delicate lemon and chicken-rice soup
• Classic takeout sandwiches like the Souvlaki Pita Sandwich
• Delicious beef, pork and lamb recipes like the Pork Souvlaki, the Beef Kebab, the Lamb Chops or the Greek-Style Stuffed Peppers
• Favorite chicken recipes like the Greek-Style Grilled Chicken or the Chicken Gyro
• Delightful seafood recipes like the Grilled Greek-Style Fish or Stuffed Squid recipe
• Healthy vegetable and side recipes like the Spanakorizo, a lemony spinach rice pilaf, or the Baked Lemon Potatoes
• Sweet desserts like the Classic Baklava or the Rizogalo, a delicate rice pudding
Hungry yet? Let start cooking! Read on your Kindle, tablet, cell phone, laptop, or computer with Amazon's free Kindle Apps.
Scroll back up and click buy for an immediate download
Click here to get this book for FREE
° ° ° ° ° ° ° ° ° ° ° ° ° °
Hunter Carson's The Life Transformation Workbook is designed to help readers set goals and create action plans in various areas of their life. It's a great workbook to start the New Year! The Life Transformation Workbook: 40+ Exercises to Help You Discover Your...
read more