Book Basset
Always on the hunt for the best Kindle deals
The birthday cake I baked for my baby basset's 14th birthday party he is having with a friend today is sitting in the refrigerate looking like a sad blob. I keep thinking there is still hope for it. Maybe there is something I could do to make it look more like a cake and not so much like a sad entity pleading for death. It started leaning too much so I set it up against the wall for support. Hopefully the frosting will firm up and make it sturdier. I think I am going to try and square it off a bit. Really show off the colors. I also might go to the store and buy a cake. Not sure. After my cake misadventure, I went on to YouTube to figure out what I did wrong, besides everything. I discovered a scarf that you put around the pan when you bake it to prevent it from sticking and it keeps it flat as well. I have a few more packets of cake mix. Maybe I will try a new cake. I can only get better at this, right??
Capture
by Roger Smith


(211 Reviews)
Genre: Literature & Fiction | Crime Fiction | Mystery | Psychological
FREE for a limited time
Devastated by the death of his toddler daughter, a tech guru befriends a sinister rent-a-cop and ends up fighting for his sanity and his life.
As four-year-old Sunny Exley drowns in the icy waters off a luxury beach house, her father, Nick, smokes weed on the shore and her mother, Caroline, is lost in the arms of a lover. Hidden on nearby boulders, rent-a-cop Vernon Saul watches the child die and chooses to act only when it is too late.
In the days following Sunny's death, gutted by grief and guilt, Nick falls under the spell of Vernon who presents himself as a friend in time of need. When the sinister Vernon's true motives are revealed, Nick is drawn into a spiral of manipulation and murder that leaves him fighting for his sanity and his life.
Click here to get this book for FREE
° ° ° ° ° ° ° ° ° ° ° ° ° °
Securing Caite: A Navy SEAL Romance (SEAL of Protection: Legacy Book 1)
by Susan Stoker


(1,113 Reviews)
Genre: Romance | Foreign Languages
FREE for a limited time
Caite McCallan is a Department of Defense admin working in Bahrain when a glitchy elevator, of all things, leads to an unexpected invitation to dinner by a gorgeous Navy SEAL. When he later stands her up, Caite's understandably upset… until she overhears a plot that confirms Rocco didn't blow her off. Instead, he and two fellow SEALs are in danger — and Caite is forced to put her career and her life on the line to save them.
Blake "Rocco" Wise never expected his routine mission to go sideways, but he was even more surprised to find himself and his teammates rescued by the adorably shy woman he met in a stalled elevator. Caite's selfless act saved his life, but when attempts on her own make it clear someone wants her gone, it's Rocco's turn to protect the brave, sweet, sexy woman. The longer he knows her, the more he wants her… but keeping Caite close could bring her nearer to the enemy than ever before.
** Securing Caite is the 1st book in the SEAL of Protection: Legacy Series. Each book is a stand-alone, with no cliffhanger endings.
Click here to get this book for FREE
° ° ° ° ° ° ° ° ° ° ° ° ° °
GREED: Sixty-Sixth in a Series of Jess Williams Westerns (A Jess Williams Western Book 66)
by Robert J. Thomas


(66 Reviews)
Genre: Literature & Fiction | Westerns | Action & Adventure
FREE for a limited time
Jess is on the hunt for another wanton killer by the name of Ty Fulton. Along the way, he comes across an old man, his daughter and granddaughter. They were on their way to a town called Carrington to start a new business. Jess camps at their site, but the old man passes away during the night.
Not wanting to leave a woman and her young daughter riding the trail alone, he decides to escort them to their destination safely. Luckily, he ends up finding his wanted man while doing so. He's ready to head back out on the hunt for the next man on his list, but a call from United States Marshal Frank Reedy makes him change course.
He heads to a town called Arville to meet with John Bodine. Jess has to pin his federal badge on again and join Bodine on a special assignment. A man rich enough to buy the entire state of Texas wants an entire town under his thumb, but Jess and Bodine have other ideas.
Blood is spilled and graves are filled as a struggle ensues between them and a rich and powerful man.
Click here to get this book for FREE
° ° ° ° ° ° ° ° ° ° ° ° ° °
Jessica Huntington Desert Cities Mystery Series (Books 1-5)
by Anna Celeste Burke


(61 Reviews)
Genre: Crime Fiction | Mystery, Thriller & Suspense
FREE for a limited time
The Bestselling Jessica Huntington Mystery Series In One Box Set!
USA Today and WSJ bestselling author, Anna Celeste Burke, brings you all of her thrilling Jessica Huntington Desert Cities Mysteries in one box set.
>>>A Dead Husband
Jessica Huntington is an amateur sleuth who would rather be shopping, but she soon finds out that money can't buy happiness or save your neck. While hiding out in sunny California, her best friend's husband is murdered. Roger Stone had something that got him killed. What was it and what will they do to get it back?
>>>A Dead Sister
A cold case heats up when the handsome detective, Frank Fontana, asks for Jessica Huntington's help. Who killed his cousin Kelly? Does Jessica want to know the truth about her high school friend's tragic death? Can she handle what digging into the past might reveal?
>>>A Dead Daughter
Jessica Isn't sure what to expect when Libby Van Der Woert, the disturbed daughter of Jessica's wealthy clients, asks to meet at the top of the Palm Springs Aerial Tramway. Trouble begins the moment Jessica greets Libby in the Mt. San Jacinto Wilderness. Wild, manic, and sure she's being followed, Libby's got a gun. All hell breaks loose when Libby's Beverly Hills shrink shows up with a gun of his own. What's up with the missing and misguided daughters of wealth and privilege in Dr. Carr's care? Getting to the bottom of things Jessica-Huntington-style, sets off a whirlwind tour of fashionable enclaves, upscale rehab clinics, shops, restaurants and other haute hangouts. Behind all the glitz and glam: secrets, lies, corporate wheeling and dealing.
>>>A Dead Mother
Jessica's ex-husband, James Harper, and her mother, Alexis, are in big trouble in A Dead Mother. Family dysfunction, infidelity, murder, and mayhem — what else can you expect from members of the rich and famous who move in Jessica Huntington's circles? An arraignment in court goes off the rails after Jim Harper's Bel Air mansion is trashed and a man is left fighting for his life. Jessica's love life almost veers off track, too, as she struggles to balance job, family, sleuthing, and her attraction to Attorney Paul Worthington and Detective Frank Fontana. When the body of a prominent member of the Palm Desert community is found dead on the side of the road, Jessica gives up hope that this year will be better than the last.
>>>A Dead Cousin
A frantic call for help has Jessica on the run. Taken from his home while his daughter hides upstairs, Detective Frank Fontana is gone. Jessica's out to save him, but what if he doesn't want to be found? Has he been abducted or is he on the run? When a body turns up, the identity of the victim only fuels the controversy. Good cops. Bad cops. Missing money. Undercover operations that may or may not have ended. Jessica and her friends soon become entangled in a web of secrets and lies that make it hard to know who's on which side of the law.
Click here to get this book for FREE
° ° ° ° ° ° ° ° ° ° ° ° ° °
PRIMAL 2055 – Escape
by Jack Silkstone


(93 Reviews)
Genre: Science Fiction | Science Fiction & Fantasy | Teen & Young Adult
FREE for a limited time
She never knew her name, only the number they used to define her. A possession of Sakkin Industries, she is being honed into a surgical weapon, trained to infiltrate and exterminate. Slowly, day-by-day, they try to erode her humanity and replace it with blind obedience and determination.
For operative Eight Two, Sakkin is a second chance at life. Rescued from a massacred village, she's given a new home among their deadly trainees at the Institute. But as she's indoctrinated, the brutal training reveals she's not like them. Conflicted, she's torn between graduating to join Sakkin's elite ranks or lashing out against the injustice they bring to the world.
Part 1 in a new series, 2055 – Escape follows on from the PRIMAL books of hard-hitting global vigilantes. It gives a glimpse into a not so distant future where security conglomerates protect the privileged few, Lascar has evolved into a sophisticated humanitarian aid outfit, and a shadow war is looming.
Click here to get this book for FREE
° ° ° ° ° ° ° ° ° ° ° ° ° °
The new children's book series, Discovering the Difference, by Myrna Fay Flick was developed to help children learn important distinctions necessary to live a more empowered life.
Being Silly, Not a Bully (Discovering the Difference Book 1)
by Myrna Fay Flick


(6 Reviews)
Genre: Children's eBooks | Foreign Languages
INTERACTIVE. EMPOWERING. ENLIGHTENING
When Miriam moved to Mystic Valley, she didn't anticipate being teased, bullied, and rejected. Tempest, her new classmate, made it clear that her kind were not welcome.
Find out in this anti-bullying book how Miriam, with the help of her new friend Val, learns valuable life skills about kindness, diversity, cultural differences, and inclusion.
Unique to the series is a fun, interactive section for children to answer questions to learn more about themselves. Also included are questions for parents, educators, and counselors to use as a guide to reinforce the learning and to share their own insights and stories about teasing and bullying.
Click here to get this book for $0.99
° ° ° ° ° ° ° ° ° ° ° ° ° °
I pretty much knew things weren't going to work out for me and my cake after the first layer. I baked the orange and purple cakes mixes first, and instead of splitting the mixes into two pans as the instructions said to, I made one cake out of each color. I wanted four large layers instead of eight smaller ones. After the cakes finished baking is when my woes began. I was having a devil of a time getting them out of the pans, despite the oil and flower I had coated the pans with beforehand. There was some breakage. The next two mixes I changed up my game and added parchment paper to the oil and flower coating and that seemed to work okay, but they baked a little differently and were a different shape. My dreams of a pretty cake were fading fast. I thought for sure I would bounce back with the frosting. Looking back I understand that I put too much faith in the frosting. I made my base out of the  mostly broken orange cake, then added a full batch of frosting to fill in the gaps. At this point I was still a bit hopeful I could pull this cake off. I added the second, purple layer and things seemed to be going okay. Not Great, but okay. I then added another batch of the frosting, and gently placed the green cake on top. It was clear at this point I wasn't going to win any awards, but I was already too far in, and there was no going back. I used only half a batch of frosting and topped it off with the black cake, using the last of the frosting to cover the top. No. Just no. Just to be clear, the base is orange, then purple, green, and the top is black. Again… no.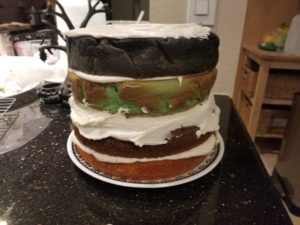 Disaster Inc (McGarry Stateside Book 1)
by Caimh McDonnell


(550 Reviews)
Genre: Humor & Satire | Literature & Fiction | Thrillers
FREE for a limited time
Some people will stop at nothing to make a killing.
You know how they're always telling us to pay attention to our pensions? Well, some ex-employees of the US government are really taking that advice to heart by using their mayhem-creating abilities to maximise their investments. When one of their fund managers has a momentary crisis of conscience and confesses all to a woman he hardly knows, they will stop at nothing to deal with the problem.
All Bunny McGarry wants is a spot of breakfast and a decent cup of tea. So imagine how annoyed he gets when two masked men attempt to rob the New York diner he is in? Unfortunately, dealing with that problem just leads to a whole lot more. One of the other customers isn't who she appears to be, and without his help, the odds aren't great that she will live to see another breakfast.
Amy Daniels is in big trouble and the only thing keeping her alive is a man who is supposed to be dead.
Disaster Inc is the first book in a new series featuring Bunny McGarry, beloved by those who enjoyed the critically-acclaimed Dublin Trilogy of books. It melds high-octane action with a distinctly Irish acerbic wit.
Click here to get this book for FREE
° ° ° ° ° ° ° ° ° ° ° ° ° °
Happily Ever His: A fake relationship/in love with the wrong sister romantic comedy (Singletree Book 1)
by Delancey Stewart


(86 Reviews)
Genre: Humor & Entertainment | Literature & Fiction | Humor & Satire
FREE for a limited time
Tess was used to being in the shadows. But when movie star Ryan McDonnell pulls her into the spotlight, her whole world is threatened. Can a relationship that starts as a secret fantasy ever survive in the real world?
My sister Juliet has always gotten everything she wants. It's fine though. I never wanted the spotlight. That was my sister's domain. And now that she's America's most popular starlet? She can have it.
But when Gran — the feisty woman who raised us, and who I cannot seem to wean off video games, an afternoon doobie, or her daily Manhattan — has a huge party to celebrate her 90th birthday, Juliet brings the Hollywood madness straight to Maryland.
In the form of my ultimate movie-star crush, Ryan McDonnell. I can barely form a sentence around the guy (at least I don't still have a poster of him on my wall). And I definitely can't get over the fact that he's Juliet's new boyfriend.
I just need to get through the weekend with them — and with the magazine people who are covering them and the party for a feature. I just need to stay away from Ryan and his warm curious eyes, his perfectly chiseled arms, and the impossibly sexy things that come out of his mouth when we're alone together.
It's only one weekend, and I just need to remember that Ryan is an actor. A good one. Because I almost believe him when he tells me we have a chance together.
If you're looking for a snort-laugh-inspiring romcom with lovesick housechickens, video game-playing grannies, and hot swoony heroes, you're in luck! Grab the first book in this series today! (All books are full-length standalones with happily ever afters and no cliffhangers!)
Click here to get this book for FREE
° ° ° ° ° ° ° ° ° ° ° ° ° °
The Nightmare Room (The Messy Man Series Book 1)
by Chris Sorensen


(236 Reviews)
Genre: Religion & Spirituality | Horror
FREE for a limited time
New York audiobook narrator Peter Larson and his wife Hannah head to his hometown of Maple City to help Peter's ailing father and to put a recent tragedy behind them. Though the small, Midwestern town seems the idyllic place to start afresh, Peter and Hannah will soon learn that evil currents flow beneath its surface.
They move into an old farmhouse on the outskirts of town — a house purchased by Peter's father at auction and kept secret until now — and start to settle into their new life.
But as Peter sets up his recording studio in a small basement room, disturbing things begin to occur — mysterious voices haunt audio tracks, malevolent shadows creep about the house. And when an insidious presence emerges from the woodwork, Peter must face old demons in order to save his family and himself.
Click here to get this book for FREE
° ° ° ° ° ° ° ° ° ° ° ° ° °
Murder's a Witch: A Beechwood Harbor Magic Mystery (Beechwood Harbor Magic Mysteries Book 1)
by Danielle Garrett

(403 Reviews)
Genre: Mystery, Thriller & Suspense | Mystery | Fantasy
FREE for a limited time
Holly Boldt has a secret
Well, technically, she has lots of them. After a scandal uproots her entire life, she is forced to relocate to a halfway house for displaced paranormals. It's her last shot for a fresh start. But keeping secrets isn't easy in a town that goes through gossip faster than tissue paper, even for a powerful witch.
When a grisly murder rocks the small town of Beechwood Harbor, Holly finds herself unwillingly entangled in the investigation. With everyone watching, Holly must solve the case before she's forced to abandon her new-found home. But with a paranormal investigator tailing her every move, a civil war brewing between her vampire and shifter roommates, and her ghostly landlord on the edge of a breakdown, she can barely think in complete sentences. How is she supposed to track down a murderer?
Holly has to make it work, or risk losing everything… again.
Click here to get this book for FREE
° ° ° ° ° ° ° ° ° ° ° ° ° °
A Voice in the Wilderness
by Grace Livingston Hill

(241 Reviews)
Genre: Religion & Spirituality | Teen & Young Adult | Westerns
FREE for a limited time
Margaret Earle, a young school teacher accidently gets down on a wrong platform and finds herself lost in the wilderness of Arizona. Alone and helpless, she pins her hope on a man to help her but it soon backfires and Margaret finds herself running away in sheer desperation. But what will happen when her path will cross with Lance Gardley, the handsome cowboy?
Grace Livingston Hill (1865-1947) was an early 20th-century novelist and wrote both under her real name and the pseudonym Marcia Macdonald. Hill's messages in her works are simple in nature: good versus evil. As Hill believed that the Bible was very clear about what was good and evil in life and had firm faith God's ability to restore everything, the same belief was also reflected in her own works. Hill's novels are widely read and appreciated for their romance and their inspiring life lessons.
Click here to get this book for FREE
° ° ° ° ° ° ° ° ° ° ° ° ° °
I am having a bit of fun right now. Tomorrow, my oldest baby Basset is having a sleepover with his best friend to celebrate his 14th birthday. I am baking a cake for him using crazy colored cake mix. It will be four layers, orange, purple, black, and green. The...
read more