Good morning book lovers. I hope everyone's morning is off to a good start. I know how you start your morning really effects how the rest of your day is going to go, and the other day in a nursery I saw this really cool garden sculpture and I just thought that I should share. – The Apprentice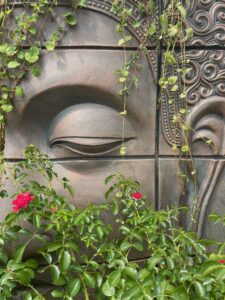 Legends of Aeo: The Complete Series
by Chris L. Meyers


(1 Review)
Genre: Fantasy
FREE for a limited time
After starting life as an orphan and working his way up to Prime Minister of Zille, Boman's life is a model success story. But after 50 years of service, the king dies, leaving the throne to his irresponsible playboy son. Suddenly Boman's decades of service mean nothing.
With active assassination plots afoot, everyone's loyalty is questioned — even Boman's. To prove himself, the aging prime minister sets out on a quest to find the real traitors. But before he completes it, he is attacked, abducted and shipwrecked on an island that should not exist.
Boman discovers his problems have just begun. His presence on the island has awakened an ancient mystery that could change the course of history. As his friends search for him, the island begins to sink its claws into his heart. If they manage to find him, will he want to be rescued?
Click here to get this book for FREE
° ° ° ° ° ° ° ° ° ° ° ° ° °
Love on the Basketball Court 
by Scarlet C. Rose, Crystal Wren, Iskon Book Design


(38 Reviews)
Genre: LGBTQ+ eBooks | Literature & Fiction | Romance
FREE for a limited time
It's always been my dream to play college basketball, but the thought of competing against the girl from my rival high school for a spot on the team feels almost hopeless.
Her name is Sarah Wood and she's been a thorn in my side ever since middle school. Her school has beaten my school every time we've played. Now we're not only going to try out for the same team, but we're also going to be roommates? Could life get any worse?
Click here to get this book for FREE
° ° ° ° ° ° ° ° ° ° ° ° ° °
Love at First Bite: Tales from a Veterinary Life
by Dr. Yair Ben Ziony


(233 Reviews)
Genre: Crafts, Hobbies & Home | Literature & Fiction | Biographies & Memoirs | Medical eBooks
FREE for a limited time
Four legged patients and Two legged masters
In this collection of stories from his life, Israeli veterinarian Dr. Yair Ben Ziony shares his fascinating experiences with animals that moo, bark, bay, and purr. Whether describing days in his private small-animal clinic, his travel in the newly independent state of Israel tending to farm animals, or his four years in pre-revolutionary Iran managing a dairy farm, Ben Ziony writes with precision, wit, and charm.
His sensitive eye reveals the beauty and nuance in every situation, as he evinces empathy not only for his four-legged patients but also for their two-legged masters, who often prove as intriguing and unpredictable as their charges. Each tale-be it amusing, sad, shocking, or simply strange–gives the reader fresh insight into the intricacies of the human-animal relationship.
Click here to get this book for FREE
° ° ° ° ° ° ° ° ° ° ° ° ° °
Destiny (Experimental Heart Book 1)
by Shannon Pemrick


(166 Reviews)
Genre: Action & Adventure | Women's Fiction | Fantasy
FREE for a limited time
Most people could never kill without regret.
I don't have that luxury. I'm an artificial creation who exists solely to follow the orders of a tyrannical maniac. Death is the only constant I know.
I want more, so I'm running.
What lies beyond the realm of my former master, presents a whole new set of problems, including a mistake that lands me at death's door. I accept that. Welcome it, really. For a relic of war, death is my inevitable release. But fate is a fickle creature.
Click here to get this book for FREE
° ° ° ° ° ° ° ° ° ° ° ° ° °
101 Quick & Easy Cupcake and Muffin Recipes
by Victoria Steele


(217 Reviews)
Genre: Cookbooks, Food & Wine
FREE for a limited time
Who doesn't love a cupcake?
Who wouldn't want to be able to make the perfect cupcake every time?
Cupcakes and muffins are among the favorites when it comes to sweet treats. For most people, these small bites of heaven are the perfect way to escape into a decadent and indulgent moment.
In this book, 101 Quick & Easy Cupcake and Muffin Recipes, you will find dozens of great ideas that will have you making your own cupcakes and muffins that are perfect every time. Whether it is for a special celebration, birthday party or just because you want to treat the family, making delicious cupcakes is satisfying and fun to do.
Click here to get this book for FREE
° ° ° ° ° ° ° ° ° ° ° ° ° °