What??? No… WHAT??? I always thought that candy corn was one of the worst candies in the world, but Brachs had to go and outdo themselves with this monstrosity! Turkey Dinner + Apple Pie and Coffee candy corn. It's real. I found it on Amazon for $17.66 for two bags. I am pretty sure that this is a sin, and whoever created this needs to go to church and confess their sin of creating this abomination. Just the packaging alone is making me feel queasy. Turkey flavored candy? First of all…NO. Secondly, turkey should never be a flavor of candy. Plus it's touching the other candy corn that tastes like coffee and apple pie. NO! I can't stop saying no. My eyes are sad now, and my brain is having a fit.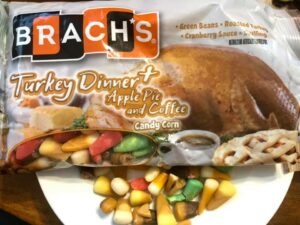 A Far Justice: "One of the best adventure writers around" – Clive Cussler
by Richard Herman


(228 Reviews)
Genre: Thrillers | War
FREE for a limited time
Gus Tyler was a prolific Air Force F-15 pilot, flying missions during the Gulf War. Nearly two decades later, he is accused of war crimes committed on the infamous Highway of Death in 1991.
Disgraced, he is put on trial before the International Criminal Court in The Hague. With the world watching, he is a man under a microscope, trapped in a geopolitical storm. Faced with a powerful and relentless prosecutor and an international press that declares his guilt before the opening arguments are made, Tyler's fate seems certain.
But Tyler's lawyer and his son Jason refuse to give up. Can Tyler defend his name and defy the court? To do so he will have to seek justice in the wild and lawless slaughterhouse of the Southern Sudan.
A Far Justice is an action-packed novel from a master of the thriller genre.
Click here to get this book for FREE
° ° ° ° ° ° ° ° ° ° ° ° ° °
The Magnolia Inn: A Book Club turned Sisterhood (The Red Stiletto Book Club 1)
by Anne-Marie Meyer


(2,349 Reviews)
Genre: Contemporary Fiction | Friendship | Women's Fiction
FREE for a limited time
***A USA Today Bestselling Book!***
"Real-life conflicts with humor, tears and a happy ending." — Amazon Reviewer
A story about new friendships, a forgotten Book Club, and finding what you didn't know you needed.
Welcome to Magnolia
Maggie is thirty-six, recently divorced and embarrassingly unemployed. With a bank account nearing zero she does the only thing she can think of: make a business proposition to her gorgeous and successful estranged mother.
To Maggie's utter surprise, her mother agrees. Any funds she can create off the sale of the dilapidated family inn on the island of Magnolia would be hers to invest.
So Maggie packs her few belongings and heads off to Rhode Island to make her dreams come true.
Clementine has been stuck in Magnolia her whole life. The moment her father was diagnosed with Alzheimer's she knew she could never leave. And it was unrealistic for her to rely on her older brother, Archer, who can't seem to outrun the ghosts of his past.
So when Maggie blows into town, both Clementine and Archer find themselves intrigued by the new move-in.
When they stumble upon an old photograph of Maggie's grandmother buried up in the attic, Maggie can't help but be drawn to a woman she's never met. In an attempt to feel closer to a family she never knew, a book club is revitalized.
The Red Stilettos Book Club.
What starts out as an act of desperation, soon becomes exactly what the women of Magnolia island were looking for, a sisterhood.
The Magnolia Inn will capture you from page one. It is a story chock full of friendship, laughter, and swoon-worthy romance.
Don't pass up this wonderful story. Grab your copy TODAY!
Click here to get this book for FREE
° ° ° ° ° ° ° ° ° ° ° ° ° °
Demons of Time: Race to the Seventh Sunset (Time Travelers Book 1)
by Varun Sayal


(67 Reviews)
Genre: World Literature | Fantasy | Contemporary Fiction
FREE for a limited time
A time traveler has seven days to save the world, but an evil lurks in the shadows.
Tej can travel through time, possess a man, and bend his will. But he is a raw time demon, he needs to be taught.
Then he meets Rigu, his savior, his guru, who bears bad news.
Billions are going to die in a single instant, on a fateful day in the far future. A nefarious entity is concocting this doomsday.
Rigu and Tej together can stop this apocalypse, but saving the world doesn't motivate Tej. He shares a dark past with his nemesis, and vengeance is due.
As he begins his time travel journey, he realizes his enemy is far stealthier than he thought, and time is running out.
If you like fast-paced stories, you will love this time travel fantasy with unexpected twists.
Click here to get this book for FREE
° ° ° ° ° ° ° ° ° ° ° ° ° °
Mindful Coaching: Coaching The Mental Game For Young Athletes Through Connection
by CG Beard


(3 Reviews)
Genre: Sports & Outdoors | Reference
FREE for a limited time
Are you a youth coach looking to take your athletes to the next level? Well, this is the perfect book for you!
Mindfulness, cognitive flexibility, and overall mental game are often overlooked when it comes to youth coaching for any sport. However, these areas are vital to truly unlocking any young person's potential in the sporting arena. They say you need to "get your head in the game" – and no truer words have ever been spoken.
Author CG Beard has poured his years of experience of coaching young athletes, as well as his own personal insights and sports psychology, into this incredibly useful guide. Through the pages of this book, you will learn all the tips and tricks to help elevate your coaching and effectively train young people to become the best athletes they can be.
In this book, you will learn:
• The best ways to coach children.
• How to become the best possible coach.
• Mental game 101 – sports psychology for you and your athletes.
• How to overcome fear, stress and anxiety which inhibit performance.
• 10+ life-altering strategies to change you and your youth team's lives.
• AND MUCH MORE!
"Mindful Coaching: Coaching The Mental Game For Young Athletes Through Connection" is the ultimate guide to youth sports coaching that will help you improve not only your athlete's performance, but your own coaching style too. This book is a one-stop-shop, chock full of invaluable information condensed into one useful guide.
The easy-to-read information and simple yet effective strategies included in this book make it perfect for everyone: from parents and teachers to professional youth coaches.
So, what are you waiting for? Don't spend hours wasting your time trying to research youth coaching. The hard work has already been done for you. All the answers are waiting for you inside, you just need to open the pages and see for yourself.
Click here to get this book for FREE
° ° ° ° ° ° ° ° ° ° ° ° ° °
Before An Amish Country Calamity; Amish Fiction (An Amish Country Yule Goat Calamity Book 1)
by Ruth Price, Sarah Carmichael

(50 Reviews)
Genre: Religion & Spirituality | Religious & Inspirational Fiction | Literature & Fiction | Foreign Languages
FREE for a limited time
An Amish tomboy. A costly mistake. Can Annie save her father's business?
If you're looking for a laugh out loud funny book about the adventures of an Amish tomboy, this one's for you.
Return to the world of Lancaster County Second Chances with Annie Miller, a fifteen-year-old wild child with a goat-load of problems! Since losing her mamm when she was only six-years-old, Annie and her daed have managed to hold it together. But 15-year-old Annie Fisher is viewed as a wild child by the rest of her Amish community. So when she starts helping her daed out in his shop, and she makes a terrible mistake costing thousands of dollars, will she be able to redeem herself and save her daed's business? Even if it means learning how to care for five, four-hooved monsters?
Before an Amish Country Calamity is the prequel to the best-selling Amish Country Calamity series. If you love a well-written, enjoyable Amish read with a main character you'll definitely relate to, grab this book today!
IF YOU'RE LOOKING FOR A GREAT NEW AMISH SERIES, START WITH THIS BOOK TODAY!
Click here to get this book for FREE
° ° ° ° ° ° ° ° ° ° ° ° ° °
Mochas, Mermaids, and a Murder: A Christian cozy mystery (A Charlotte Ritter Mystery Book 3)
by Alyssa Helton, Keith Helton

(13 Reviews)
Genre: Religion & Spirituality | Mystery
FREE for a limited time
She just can't seem to help herself. Charlotte Ritter is back at it; finding a case where no one else seems to see one. After a fun trip to Weeki Wachee Springs with her kids (to see "real" mermaids), Charlotte heads back to work and into trouble. Cole tries his best to keep a watchful eye on her, but she's bound and determined to prove that the apparently natural death of a local businesswoman was really a ghastly, premeditated murder. Will she be able to "nail" the killer or will she become the next victim?
Click here to get this book for FREE
° ° ° ° ° ° ° ° ° ° ° ° ° °