I think I am being stalked every time I go out into the garden. She usually pops out at me when I get too close to a plant to check out the blooms and look for caterpillars. Oh… It just occurred to me that I see her on the milkweed all the time, and yesterday I took all of her tasty caterpillar burritos. THAT'S WHY SHE IS MAD! Oh dear. I hate to get on her bad side. She is pretty big and obviously has no fear with how close she gets to me. Not sure how I am going to make it up to her. . This could get ugly.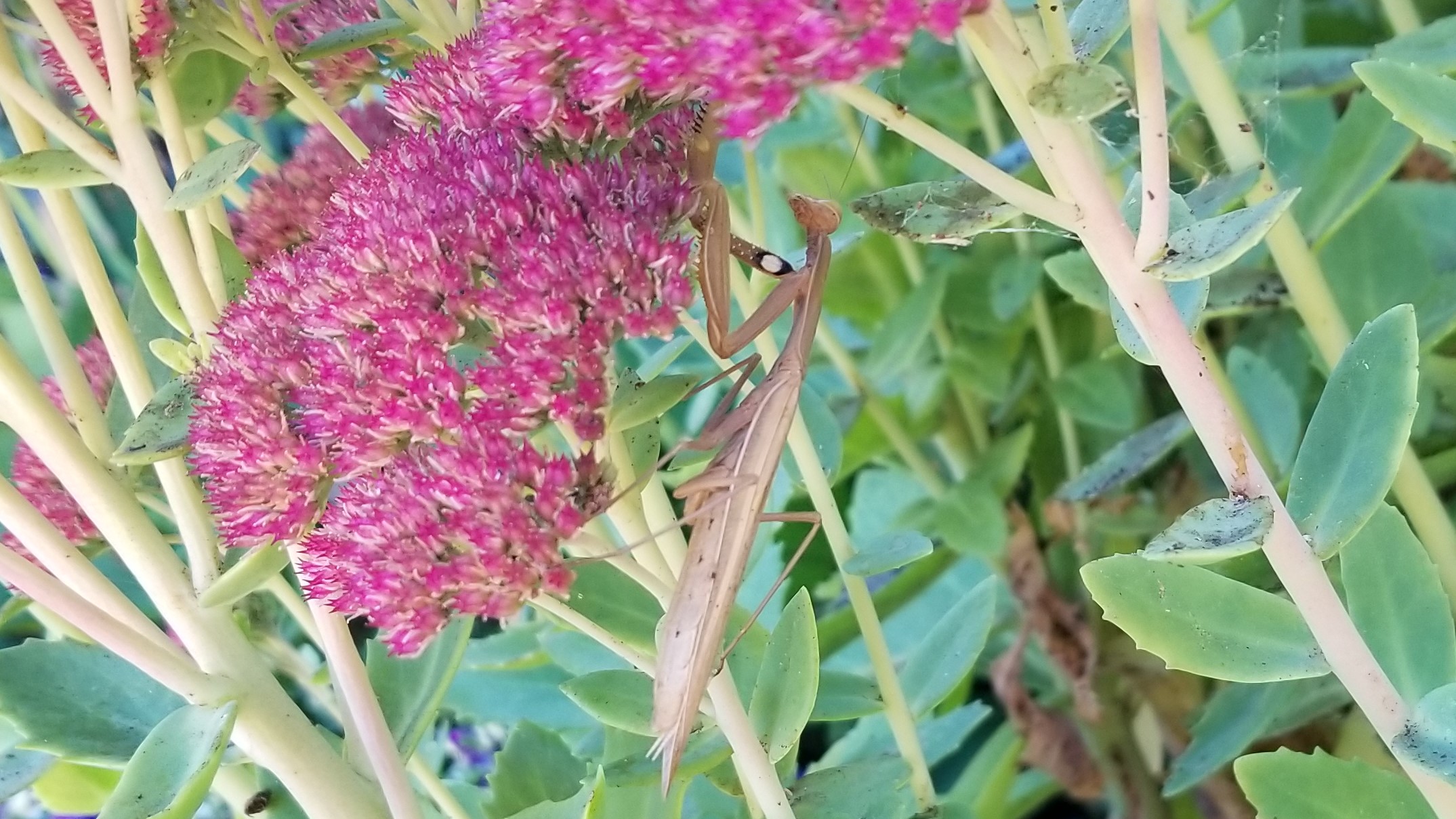 Murky Passions and Scandals: A Chinese Cozy Mystery (A Raina Sun Mystery Book 6)
by Anne R. Tan


(78 Reviews)
Genre: Mystery
FREE for a limited time
Murky weather in store… with a chance of fatal storms.
After Raina Sun witnesses a kidnapping, the victim shows up unharmed and claims she was at a day spa.
The case grows even murkier when Raina's client, the husband of the supposed victim, is found dead at the old pumpkin patch, the site for a contentious new mall development. Raina's new boss seems more worried about collecting their fee than finding the killer.
To make matters worse, Raina's sister plans a getaway weekend in Lake Tahoe to revive her marriage, landing Raina with a tornado of a three-year-old.
A kidnapping, a dead client, and an energetic preschooler–Raina's weekend goes from bad to worse. Can Raina see her way clear to the end, or will a storm come crashing down when the murderer realizes she's hot on the trail?
Click here to get this book for FREE
° ° ° ° ° ° ° ° ° ° ° ° ° °
Crossroads of Bones (A Katie Bishop Novel Book 1)
by Luanne Bennett


(753 Reviews)
Genre: Contemporary Fiction | Fantasy | Suspense
FREE for a limited time
Savannah is about to burn, so what's a girl with wings and a tattoo machine to do?
When Katie Bishop is asked to join an elite society that guards Savannah against all the supernatural riffraff in town, she can't refuse. Especially when the city's latest threat has targeted her to help it escape from an ancient book it's been imprisoned in for over a century. You see, Katie isn't your average girl — she's a bit of a beast and owns a tattoo shop at the edge of town. She's also the only person who can tattoo a magical symbol on the demon's back that will set it free for good — and live to tell about it.
Trying to run a business and keep her secrets intact, Katie's life is complicated enough. The easy thing would be to just apply the tattoo and be done with it, but there's just one problem — the demon plans to open the crossroads and let all hell break loose.
With the help of her best friend, Lady Sugar — the Queen of Savannah with hoodoo in her blood, and a coven of eclectic witches, they'll fight to save their city. No shrinking violets here. Katie and crew have plenty of heart and grit, and Sugar will have you rolling! Typical urban fantasy? Not exactly.
Click here to get this book for FREE
° ° ° ° ° ° ° ° ° ° ° ° ° °
Provence Flame: love in the hot lavender fields
by Kate Fitzroy


(66 Reviews)
Genre: Romance
FREE for a limited time
Amber enjoys a perfectly good life… sharing a flat in Bloomsbury with her friend, Kim, and working as a talented art restorer in a nearby museum. Engaged to be married to a handsome Scot… how can it be that she finds herself immersed in the hot and passionate life amongst the lavender fields of Provence?
Provence Flame is a genre-buster novel – a thriller-romance. The plot weaves at a fast pace as Kate Fitzroy transports us once again to the blue skies and glorious landscape of Provence.
Kate's fans will recognise characters from her other titles:
Perfume of Love
Provence Love Legacy
Dreams of Tuscany
You are cordially invited, as a reader-guest, to a roof-top, candlelit dinner party over-looking the lavender fields. Other guests will include Calinda and Daniel, Kelly and Leon, Alex and Zoe… and meet new friends, Amber and Luc.
Once you enter Kate's hot and magic world it is hard to leave… be prepared to read Provence Flame in one sitting… or, better still… lying on a sun-lounger, under a pink parasol beside a turquoise blue pool. Escape into Kate Fitzroy's world.
'words are the voice of the heart'
Click here to get this book for FREE
° ° ° ° ° ° ° ° ° ° ° ° ° °
Triumphant to the Last (the Jacobite Battle for Scotland Book 2)
by John Marshall

(9 Reviews)
Genre: Historical Fiction | War
FREE for a limited time
Book 2 of the Jacobite Wars for Scotland
Scotland had won its freedom at Prestonpans but all was not well. Bonnie Prince Charlie had dreams of sitting on the throne in London, among many of his expectations that his officers sought to subdue. After all the Scot's army was yet insignificant in comparison to the English army and the English King was already looking towards the Dutch to bolster his numbers. If the French had kept their promise and risen as expected, it may have been a different story.
While Charlie danced away the night at Holyrood Palace, his officers worried about his plans for the future. Jamie Shepherd and his cousin William Shepherd had experienced the horrors of war at Prestonpans and both now wondered what was right and what was wrong in this conflict. Neither knew where their Uncle James Legg was and whether he would return. As they stood at Duddingston Loch they were faced with a future that looked bleak and both thought of home and family.
Were they prepared for what was to happen next? The plain answer is that no one was. Their paths would not be of their choosing, but this was war and few knew or wished for what lay ahead. With the English army massing at Newcastle and rumours of further battalions arriving from Europe, what was the sensible action? Wait in Edinburgh and grow in strength or challenge the enemy on its own land. Only a maniac would do that?
Well, Bonnie Prince Charlie had his own thoughts and this would be the beginning of a long journey. Follow in the footsteps of the young boys as they travel the length of England and Scotland in their quest for a free Scotland. Who will be 'Triumphant to the Last'?
Click here to get this book for FREE
° ° ° ° ° ° ° ° ° ° ° ° ° °
The Man in the Tent: My Life under Canvas – The First Four Years
by Tony Beardsall

(519 Reviews)
Genre: Travel
FREE for a limited time
THE MAN IN THE TENT is Tony Beardsall's lively, informative account of his life since moving under canvas at the age of fifty-one. In this volume he relates the first four years of his outdoor odyssey, from his initial escapist trips, through his gradual move towards full-time outdoor living, to his decision to put the harsh British winters behind him and head off to the more benign climate of southern Spain. Sincere but light-hearted, this memoir recounts his experiences in Lancashire, Yorkshire and Scotland, alongside the mental journey leading to his conviction that a conventional life is no longer for him, despite the well-meaning advice of his family and friends.
Click here to get this book for FREE
° ° ° ° ° ° ° ° ° ° ° ° ° °