You know the saying feed the birds? How about feed the geese? – The Apprentice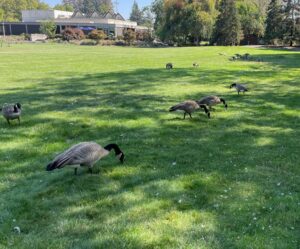 Sufficiently Advanced Magic 
by Andrew Rowe


(1,863 Reviews)
Genre: Fantasy | Teen & Young Adult
FREE for a limited time
Five years ago, Corin Cadence's brother entered the Serpent Spire — a colossal tower with ever-shifting rooms, traps, and monsters. Those who survive the spire's trials return home with an attunement: a mark granting the bearer magical powers. According to legend, those few who reach the top of the tower will be granted a boon by the spire's goddess.
He never returned.
Now, it's Corin's turn. He's headed to the top floor, on a mission to meet the goddess.
If he can survive the trials, Corin will earn an attunement, but that won't be sufficient to survive the dangers on the upper levels. For that, he's going to need training, allies, and a lot of ingenuity. The journey won't be easy, but Corin won't stop until he gets his brother back.
Click here to get this book for FREE
° ° ° ° ° ° ° ° ° ° ° ° ° °
Dead at Third
by Gregory Payette


(614 Reviews)
Genre: Action & Adventure | Mystery | Crime Fiction
FREE for a limited time
He knows he's more than just another washed-up ex-cop. Solving a murder will help him prove it… A straight-shooter who lives on a boat and likes a drink or two, Henry's frustrated he can't even land work as a dispatcher. And his job running security for a local baseball team is far from his idea of excitement.
But it pays the bills.The morning after the season ends, Henry's at his friend's bar with a Bloody Mary in one hand and a phone in the other. He takes a call that could change everything… Turns out a couple of fishermen pulled third baseman Lance Moreau's body from the St. Johns River. And his teammate's been arrested for the murder.
The team's owner turns to Henry to help prove the cops have the wrong man. Henry knows working security in an empty ballpark is one thing. But investigating a murder? It won't be easy.
Click here to get this book for FREE
° ° ° ° ° ° ° ° ° ° ° ° ° °
The Beauty of St. Kilda
by Nicola Italia


(434 Reviews)
Genre: Romance
FREE for a limited time
When Emily Clairmont's husband is tragically struck down by typhoid fever after only a few months of blissful domesticity, Emily finds herself heartbroken and completely alone in the world.
Having lost her mother in childbirth and her father right before her marriage, she has no choice but to seek a position as a governess. Quinn takes one look at the young and beautiful Emily and decides that a job as a governess will not do. He writes instead to the father-in-law she's never met, and when Leopold Clairmont offers her a place in his home, Quinn agrees to escort Emily to his isolated refuge in St. Kilda. But he did not anticipate how challenging it would be to keep his distance from the grieving widow when all he wants to do is take her in his arms and console her. When Emily learns things about her husband that he never revealed, she wonders if she ever really knew him at all. Torn between her devotion to her departed husband and her growing feelings for Quinn, Emily must decide whether her heart belongs to the living or the dead and find the courage to act before it's too late.
Click here to get this book for FREE
° ° ° ° ° ° ° ° ° ° ° ° ° °
Cuckoo's Nest: Volume Two in 'The Cuckoo' series 
by K. L. Smith


(60 Reviews)
Genre: Humor & Satire | Literary Fiction | Humor & Entertainment
FREE for a limited time
Sarah Pemberton's back, raising hell and wreaking havoc.
Despite desperately trying to be the demure lady of the manor, things don't quite go to plan. Armed with her ever faithful troop, they have to batten down the hatches and keep the intruders from the gate. What can you do when people try to break you? Don't take things lying down!
Restoring a rundown hotel is stressful enough, having your arch enemy move in next door is a recipe for disaster.
Click here to get this book for FREE
° ° ° ° ° ° ° ° ° ° ° ° ° °
Dairy Free Baking Cookbook
by Karen Evans


(85 Reviews)
Genre: Cookbooks, Food & Wine
FREE for a limited time
Lactose intolerance is a very common condition that causes digestive issues for many people. If you have lactose intolerance probably know that it can be very difficult finding baked foods that do not have dairy. The good news is that there are plenty of great alternatives to dairy for using in baking.
With these dairy free baking recipes, it is impossible to tell that they do not contain milk or dairy. I have included a wide variety of my favorite dairy free cookie, cake and dessert recipes that anyone can enjoy.
Click here to get this book for FREE
° ° ° ° ° ° ° ° ° ° ° ° ° °