Good afternoon! First up, this summer when out on a little hike I had a little friend jump across my path. – The Apprentice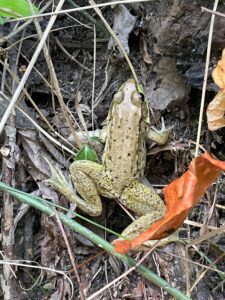 Paws in the Action
by Max Parrott


(396 Reviews)
Genre: Mystery | Women's Fiction
FREE for a limited time
A quaint town full of secrets. A string of bizarre occurrences. An unconvincing suicide…
When a body is discovered in the small, sheltered town of Blackwood Cove, the authorities are ready to write it off as a suicide. But for Jasmine Moore, something doesn't quite add up.
With nobody to help her but her loyal golden retriever Luffy, Jasmine takes up the mantle of detective to solve the case and unravel the truth. But Luffy is no ordinary dog, and Jasmine shares a highly unusual bond with him – one that could hold the key to solving the entire mystery.
Click here to get this book for FREE
° ° ° ° ° ° ° ° ° ° ° ° ° °
Trial by Sorcery: Dragon Riders of Osnen Book 1
by Richard Fierce


(110 Reviews)
Genre: Fantasy | Teen & Young Adult
FREE for a limited time
Dragons can be dangerous… if you don't bond with them first.
Eldwin wants to follow in his father's footsteps and become a Dragon Guard, but not for the glory. With his family dead and their lands dying, the opportunity to join the dragon rider school is all he has. But before Eldwin can bond with a dragon and guard the skies, he must pass three tests to prove his worth.
Compassion, magical aptitude, and armed combat.
He's determined to pass, but his maimed arm is a constant reminder of his disadvantage. Will the obstacles Eldwin faces keep him from reaching his dreams, or will he finally see what it's like to ride the skies?
Click here to get this book for FREE
° ° ° ° ° ° ° ° ° ° ° ° ° °
Rocky Mountain Ghost (Rocky Mountain Series Book 3)
by Kurt James


(28 Reviews)
Genre: Westerns
FREE for a limited time
Kurt James 3rd western adventure novel of the Rocky Mountain frontier is now available. Many have been calling Kurt James the best author of the old west since Max Brand.
Click here to get this book for FREE
° ° ° ° ° ° ° ° ° ° ° ° ° °
Judicator, Leviathan
by Serban Valentin Constantin Enache


(5 Reviews)
Genre: Action & Adventure
FREE for a limited time
Hera is sent by the Inquisition to a feral planet on the fringes of the galactic East, there to investigate a Warp anomaly. She takes a Sergeant, a Super-mutant, and a Technomancer for the mission. They discover a tribe of primitive humans, pure of gene-stock, who worship a giant, alien craft made of beautiful, horned ivory. Hera's team begins to explore the xeno construct, for within its caverns lies the source of the mysterious Warp signature. Wonder and peril awaits them, the most strange and gruesome kind…
Click here to get this book for FREE
° ° ° ° ° ° ° ° ° ° ° ° ° °
Thai Recipes – The Ultimate Guide
by Amanda Ingelleri, Encore Books


(36 Reviews)
Genre: Cookbooks, Food & Wine
FREE for a limited time
Thai food is known for having a mix of flavors that explode across the taste buds. The list of ingredients in many Thai dishes can seem intimidating to many home chefs, but once the basic flavors and spice components are understood, the dishes are much less complicated.
Experiment with the spices and seasonings that you like best to create authentic Thai recipes from the standard taste combinations of salty, sour, spicy and sweet. We have collected the most delicious and best selling recipes from around the world.
Click here to get this book for FREE
° ° ° ° ° ° ° ° ° ° ° ° ° °