This year I decided to try trellising my tomatoes. The heat that we have been having lately has really caused some of my veggies to take off. By the looks of the pictures below you can see I am in for quite a few tomatoes. YAY!!!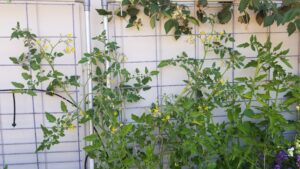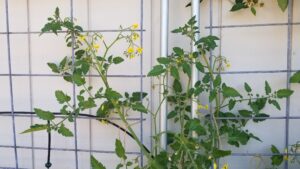 The Sugar Queen (Emerson Pass Contemporaries Book 1)
by Tess Thompson


(288 Reviews)
Genre: Friendship | Women's Fiction | Literary Fiction
FREE for a limited time
True love requires commitment, and many times unending sacrifice…
At the tender age of eighteen, Brandi Vargas watched the love of her life drive out of Emerson Pass, presumably for good. Though she and Trapper Barnes dreamed of attending college and starting their lives together, she was sure she would only get in the way of Trapper's future as a hockey star. Breaking his heart, and her own in the process, was the only way to ensure he pursued his destiny. Her fate was the small town life she'd always known, her own bakery, and an endless stream of regret.
After a decade of playing hockey, a single injury ended Trapper Barnes' career. And while the past he left behind always haunted him, he still returns to Emerson Pass to start the next chapter of his life in the place his ancestors built more than a century before. But when he discovers that the woman who owns the local bakery is the girl who once shattered his dreams, the painful secret she's been harboring all these years threatens to turn Trapper's idyllic small town future into a disaster. Will it take a forest fire threatening the mountain village to force Trapper and Brandi to confront their history? And in the wake of such a significant loss, will the process of rebuilding their beloved town help them find each other, and true happiness, once again?
Fast forward to the present day and enjoy this contemporary second chance romance set in the small town of Emerson Pass, featuring the descendants of the characters you loved from USA Today bestselling author Tess Thompson's The School Mistress.
Click here to get this book for FREE
° ° ° ° ° ° ° ° ° ° ° ° ° °
Drunk on a Plane: The Misadventures of a Drunk in Paradise: Book 1
by Zane Mitchell


(1,205 Reviews)
Genre: Action & Adventure | Humor & Satire | Foreign Languages | Men's Adventure | Sea Adventures | Historical Fiction
FREE for a limited time
So, I'm Drunk.
Daniel T. Drunk, Jr. if you really wanna know. And I'm on a plane headed to Paradise Isle on the trip of a lifetime. The occasion? My honeymoon. Except, there's only one problem.
I'm riding solo.
It's a really long story, and if you don't mind, I'd prefer to leave it at that.
Really? You must know? Fine, I get it. You're the nosey type. Here's the abbreviated version. I came within an inch of marrying a cheating slut. There. Get the picture? Good.
But that's not what this story is about. This story is about what happened after I got to Paradise and a dead body showed up in my motel room.
And, of course, the cops tried to blame it on me.
And then the actual murderer decided they wanted me dead too.
The hits just kept on coming.
And to top it all off. This woman started following me around the island, and she couldn't seem to keep her hands off me. But not in a good way.
So if you're interested in a bit of Caribbean flavored action and adventure, with a hint of sexual tension, a dash of unapologetic profanity, and a kick-ass ending, then this is your book.
If you're looking for the next best piece of literature since – oh, hell, who am I kidding? I don't know shit about good literature. But if that's what you're looking for, then keep moving, cause this ain't that.
If, however, you're like me and just looking for a good time, then I'm your fella. I promise you, you won't be disappointed.
Rated R for language, crude humor, sexual innuendos, and the occasional non-PC remark. Rated A+ for entertainment value.
Click here to get this book for FREE
° ° ° ° ° ° ° ° ° ° ° ° ° °
The Cornish Village School – Breaking the Rules (Cornish Village School series Book 1)
by Kitty Wilson


(744 Reviews)
Genre: Friendship | Romance | Women's Fiction
FREE for a limited time
Rosy Winter is definitely not looking for love.
Following heartbreak, Rosy has rebuilt her life in the beautiful Cornish village of Penmenna. Now headmistress of the local school, she is living by The Rule: no dating anyone in the village. Easy, right? But Rosy Winter has a new neighbour, handsome gardener Matt.
In Penmenna for his new gardening TV show, this guy next door will do everything he can to persuade her to break her rule and win her heart. Meanwhile, Penmenna Village School is threatened with closure and it's up to Rosy to rally the local community and #SaveOurSchool.
Can she bring her worlds together and accept help from the most unlikely of sources?
This heartwarming romance is perfect for fans of Holly Martin and Tilly Tennant.
Click here to get this book for FREE
° ° ° ° ° ° ° ° ° ° ° ° ° °
The Stars That Beckon (StarPath – Book 1)
by Kevin J Simington


(73 Reviews)
Genre: Science Fiction
FREE for a limited time
A dying world. A desperate mission. An unlikely hero.
In the normal course of events, Zac Perryman was destined to live an unremarkable life and die without leaving more than the faintest ripple in the ocean of humanity's existence. But the normal course of events was about to be rudely interrupted. As he slept past his alarm on a warm February morning, events were conspiring to derail his ordinary life and sweep him up into a tsunami of cosmic proportions.
Zac becomes part of ragged band of desperate survivors who flee from a dying Earth in search of a new home. Leaving behind a planet that has been decimated by global catastrophe, they set course for a distant star system on board mankind's only surviving starship. But the universe plays a cruel joke on them. Awakening from cryogenic stasis, they discover that they have not only travelled through space, but through time as well. Now facing even deadlier threats from a strange world, their battle for survival is only just beginning. An exciting, intelligent, fast-paced adventure that spans the galaxy.
Click here to get this book for FREE
° ° ° ° ° ° ° ° ° ° ° ° ° °
Incredible CAKE Recipes: Your 5 Star Guide: Top 50 Cakes Recipes
by Andrina Garrow


(36 Reviews)
Genre: Crafts, Hobbies & Home | Cookbooks, Food & Wine
FREE for a limited time
In this Book, you will find 50 Incredible Recipes.
They are easy Directions for Delicious Desserts, with simple explanations and detailed descriptions of Decorations.
This Book will provide you with unforgettable tasty treats that are fun to make.
This Cookbook includes Recipes for many situations, events and celebrations.
It presents various Cake ideas from all over the world, which will satisfy and surprise your recipients, no matter how capricious.
From the first Cake you undertake, you will feel like a Dessert-crafting Professional.
The recipes range from simple biscuits to complicated and delectable cakes, such as Red Velvet, Oreo, Whoopee-Pie and more.
Surprise your Recipients with scrumptiously tempting delights. Prepare Bakery – level Cakes in your own Kitchen.
Beautiful photos illustrate creative Decorations and provide inspiration for your own masterpiece.
I present to you a collection of carefully selected Cake Recipes and Techniques. Enjoy!
Full and Easy Recipes of Cakes.
Carefully selected Cakes Recipes.
Click here to get this book for FREE
° ° ° ° ° ° ° ° ° ° ° ° ° °