A little motivation for both plant and plant parent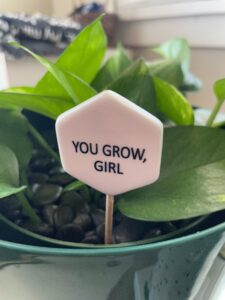 Up in Smoke 
by Shannon VanBergen


(1,316 Reviews)
Genre: Mystery
FREE for a limited time
A hilarious cozy mystery from USA Today Bestselling author Shannon VanBergen
Nikki is a flirtatious six-time divorcee. Geraldine is her quirky grandmother. Mix in a bunch of gun-toting grannies, an outrageous retirement home, and an unsolved mystery and there's bound to be some excitement. Follow along as Nikki and the cast of retirement home vigilantes work to solve the mystery before everything goes up in smoke.
Click here to get this book for FREE
° ° ° ° ° ° ° ° ° ° ° ° ° °
The Legend of the Bloodstone 
by E.B. Brown


(689 Reviews)
Genre: Romance
FREE for a limited time
Maggie is a modern day woman with all her flaws, thrust back into a time when men were carving out the history of America. She has just enough knowledge of the past to know trouble is coming, yet soon she is kicking herself for not paying better attention in history class. When she is captured by Winn, a warrior who is torn between his duty to kill her and his desire to keep her, she must adapt to a life she had only read about in history books.
Winn is a seventeenth century Paspahegh warrior, born in a time before the English settlers arrived on the shores of Tsenacomoco. He has learned the ways of the English and uses his knowledge to ensure the survival of his people, but when he finds a wounded woman in the woods his loyalty is put to the ultimate test.
Click here to get this book for FREE
° ° ° ° ° ° ° ° ° ° ° ° ° °
The Woman in the Car Trunk
by John Meany


(454 Reviews)
Genre: Thrillers | Horror
FREE for a limited time
Imagine for a minute you're a songwriter and your ex-husband is a famous record label owner/producer. Now imagine that after your highly televised divorce you end up with one of your husband's mansions and expensive cars, you think he has moved on.
But no, your ex-husband breaks into your house one night wearing a mask; he tries to strangle you. The next thing you know you wake up in the trunk of his car with a murdered police officer's body laying on top of you. What would you do?
Well, you would probably do exactly what Scarlett Nacke does at first is panic. Then you'd realize that if you couldn't figure out a way to get out of the trunk soon, you'd end up like the murdered cop, dead.
Click here to get this book for FREE
° ° ° ° ° ° ° ° ° ° ° ° ° °
Going For Broke
by Nina Howard

(121 Reviews)
Genre: Contemporary Fiction | Women's Fiction | Romance
FREE for a limited time
Growing up on the Wrong Side of the Tracks, Victoria Vernon knows the sting of living with Less in a town of More. She also knows that living well is the best revenge, and through brains, beauty and an advantageous marriage, she not only lives well, she lives downright spectacularly.
Until the day that the FBI shows up on her doorstep and seizes everything she owns. She's left with no money, no friends and no resources, and her only option is to move back to her mother's house in the town she vowed never to see again.
Coming home is worse than she could have imagined. Forced to navigate a past she didn't want to confront, children she barely knows, her estranged mother and a determined FBI agent that is convinced that the path to her thieving husband is to her front door.
Click here to get this book for FREE
° ° ° ° ° ° ° ° ° ° ° ° ° °
The Ghost and the Greyhound 
by Bryan Snyder


(27 Reviews)
Genre: Children's eBooks
FREE for a limited time
The biggest secret in Earth's history is that everything is intelligent. Humans, animals, plants… even the deceased. Ancient magic kept the species from talking to one another… until a dog suddenly spoke up and asked his owner to help save the world.
Any other kid would have been thrilled to have a talking greyhound as a pet or to be recruited by a dead girl to stop an abomination from devouring the souls of his city. But thirteen-year-old Piers Davies of Summerday had bullies to avoid, a mother to take care of and a thousand other reasons to stay out of trouble. Nevertheless, the teenager soon found himself neck-deep in fairies, ghosts and bickering animals, most of whom considered him the sole ambassador of a species previously unknown for their intelligence – the humans.
Click here to get this book for FREE
° ° ° ° ° ° ° ° ° ° ° ° ° °