My first real project came out fantastic on my new carving machine. I was happy to learn a few lessons that didn't cost me the project or diminish the final product at all. I made a honeycomb trivet out of a scrap of oak that was given to me. Now I want to make a bunch of them to give to family and friends. Hubby has other ideas. He has already moved on to the next experiment, while I want to stay on the honeycomb trivet and enjoy success. My issue is, I really want to find a interesting and unique Easter project that people would like, but my skills and patience are really not quite there with the X-Carve. So what do I do? I run out to the hardware store and checkout the plants on the clearance rack. Hubby tries to remind me that the clearance rack plants still come out of my plant budget, but I argue that they are on sale on sale, so they are exempt. He doesn't agree, so bunny rabbits it is…. again. Below is the honeycomb trivet. Not the greatest picture, but I really wanted you all to see it. I will work on my photography skills later…. after a few more trivets and maybe a bunny.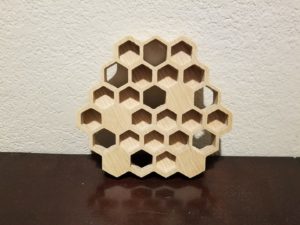 Strange Deaths of the Last Romantic: A Suspenseful Young Adult Thriller
by Moses Yuriyvich Mikheyev


(13 Reviews)
Genre: Science Fiction | Teen & Young Adult | Crime Fiction
FREE for a limited time
"The first time I committed suicide I was ten years old.
There have been many more suicides since."
Adam is cursed. He cannot die.
But one man's burden is another man's blessing, and there are people who are out to harness Adam's special talents.
However, Adam soon discovers that immortality comes at a cost; every time he dies, he loses a little bit of himself. So when Adam meets Lilyanne — his reason for living — he's forced to choose between life and love.
Click here to get this book for FREE
° ° ° ° ° ° ° ° ° ° ° ° ° °
Cherish Me, Cowboy (Wildflower Ranch Book 1)
by Alissa Callen

(350 Reviews)
Genre: Romance
FREE for a limited time
Working cowgirl, Payton Hollis, has no time for hairdryers, heels and helplessness. She must save her home, Beargrass Hills Ranch. She also has no time for men. She already is boot-deep in blue-eyed cowboy trouble.
City-boy, Cordell Morgan, isn't who he seems. His fancy suit and slow smile hide dark secrets. Secrets as to why his hands are callused, why he never stays around and why he has really come to Marietta, Montana.
Between a shrewd old rancher, a cantankerous rodeo horse and a stud bull called Trouble, Payton and Cordell have no chance to lead separate lives. No matter how much their futures may depend upon them doing so.
Can a sassy cowgirl lower her guard for a man who will soon be gone? And can a man who believes emotions are nothing but a liability take the ultimate risk?
Wildflower Ranch Series
Book 1: Cherish Me, Cowboy
Book 2: Her Mistletoe Cowboy
Book 3: Her Big Sky Cowboy
Book 4: His Outback Cowgirl
Book 5: Hold Me, Cowboy
Book 6: His Christmas Cowgirl
Click here to get this book for FREE
° ° ° ° ° ° ° ° ° ° ° ° ° °
She Told a Lie (Zachary Goldman Mysteries Book 8)
by P.D. Workman


(8 Reviews)
Genre: Mystery
FREE for a limited time
From USA Today Bestselling Author, P.D. Workman!
A missing girl.
Her confused family and friends don't know what to think about her disappearance.
The police will only put so many resources into the search for a missing teen. They don't have time and money to spend on runaways and voluntaries. But that doesn't mean no one cares.
Zachary Goldman is on the case, and he is determined to find out what happened to Madison Miller and to bring her home safely.
If she's still alive, he's going to find her.
No matter what danger he might face personally.
Don't miss this intriguing mystery!
Buy it today
Click here to get this book for FREE
° ° ° ° ° ° ° ° ° ° ° ° ° °
The Sean Wyatt Series: Books 1-3 Box Set: A Sean Wyatt Archaeological Thriller (Sean Wyatt Adventure Book 1)
by Ernest Dempsey


(427 Reviews)
Genre: Action & Adventure | Men's Adventure
FREE for a limited time
They tried to kill him to cover up an ancient secret. Now Sean Wyatt is plunged into a race against time to save his best friend's life and the lives of billions. And he has no idea how deep the rabbit hole goes.
This scorching adventure will have you up late into the night, telling yourself to read just one more page. With an old secret society, an evil mastermind with terrifying plans, and mysterious ancient history melded right into the plot, you're sure to love every second of this box set.
The thrill ride begins with book one, The Secret of the Stones. It continues with book two, The Cleric's Vault, and ends with an incredible climax in book three, The Last Chamber.
Half Indiana Jones, half spy, when the government needed something done quietly, Sean Wyatt was the guy they called. Life in covert missions took it's toll, though, and he finally made a change, taking a job with a friend's artifact recovery agency. He was looking for purpose and a life where bullets aren't always coming his way. What he got was more trouble than he bargained for.
Grab this box set now to begin your journey around the world a new hero.
Click here to get this book for FREE
° ° ° ° ° ° ° ° ° ° ° ° ° °
RV There Yet?: The True Story of a Motoring Nightmare
by Travis Casey


(71 Reviews)
Genre: Travel
FREE for a limited time
It's no wonder that truth is stranger than fiction. Fiction has to make sense. — Mark Twain
After selling their Minnesota home, Travis and Wendy plan an elaborate departure from the United States before repatriating themselves to the UK. Buying a second-hand RV, visiting states unknown, and selling the campervan after reaching Florida seems like the perfect exit. So they pack their lives and blind Shih Tzu into a once-luxurious thirty-one-foot RV and hit the open road.
As they roll through the Midwest, heading for the Deep South, they soon discover "RV" doesn't mean "Reliable Vehicle." Historical sites give way to repair shops and the excitement of the once-in-a-lifetime trip quickly turns into apprehension of what's around the next corner. With the wheels literally coming off the wagon, bogus repairs, temperatures rising inside the RV and under the hood, sleeping in junkyards, and being laughed at by the Mississippi police, the once-happy couple just want the nightmare to end so they can return to England. But the Minnesota Department of Motor Vehicles has the final say as to when they can leave.
Of course it's a true story. You couldn't make it up.
Click here to get this book for FREE
° ° ° ° ° ° ° ° ° ° ° ° ° °