I'm just going to say it. I was a little too thrilled about two caterpillars in the garden yesterday. I must have taken at least 20 pictures of them, and a few videos as well. In my defense, they were pretty big caterpillars. Not the biggest I have ever seen, but the biggest this year in the garden. I am really curious to know where they are all going after they have feasted on my Passion Flower. They are shredding that thing to pieces. Thank golly the plant grows fast. Fast enough to just barely keep up with their appetite. These two in particular have been hanging out together for a few days now. I'd like to think they are friends and have been having wonderful conversations about plants and eating. That would be all they have to talk about since that is all they do all day. Enjoy little buddies. Do you guys see the little one peeking her head out from behind the leaf? SO CUTE!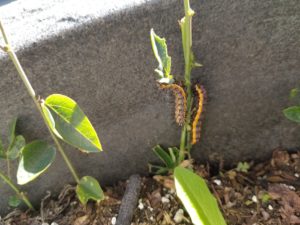 One More Kiss (Shaughnessy Brothers: Band on the Run Book 1)
by Samantha Chase

(145 Reviews)
Genre: Contemporary Fiction | Literature & Fiction | Women's Fiction
FREE for a limited time
MATT REED IS HIDING
… from his fans… from his past… from a failure too painful to contemplate
Most of all, Matt is hiding from himself.
VIVIENNE FORRESTER IS A WOMAN WHO GIVES HER ALL… to her friends and family… to her online food blog… to the man she loves
Vivienne will try anything and everything to coax Matt out of his self-imposed exile. But for this to work, Matt is going to have to meet her halfway…
Click here to get this book for FREE
° ° ° ° ° ° ° ° ° ° ° ° ° °
Valhalla Station: A Space Opera Noir Technothriller (The SynCorp Saga: Empire Earth Book 1)
by Chris Pourteau, David Bruns


(58 Reviews)
Genre: Science Fiction | Mystery, Thriller & Suspense | Thrillers
FREE for a limited time
***Winner: 2019 Best Book Award for Science Fiction (American Book Fest)***
The Expanse meets The Godfather in this Space Opera/Sci-Fi Noir Thriller about corporate greed, rebellion, and mankind's survival among the stars.
Revolution threatens a longstanding peace…
Thirty years after the Syndicate Corporation saved Earth from climate-change extinction, SynCorp's Five Factions rule the solar system with an iron fist wrapped in a velvet glove. Food, entertainment, safety, security — SynCorp provides it all. In return, the Company requires complete loyalty and obedience to corporate law.
The Soldiers of the Solar Revolution claim life under SynCorp is slavery cloaked in comfort. They launch their rebellion, targeting the pillars of corporate production: sabotaging refineries on Mars, shattering Callisto's orbital ring. Meanwhile, brutal pirates siphon off Company resources in the Belt, and hackers tap into citizens' implants, addicting them to fantasies shaped from their own dreams.
Besieged on all sides, SynCorp's Five Factions are in retreat. The rebels aim to destroy the Company to free mankind. But does mankind really want to be freed?
Click here to get this book for FREE
° ° ° ° ° ° ° ° ° ° ° ° ° °
How to Bake a Murder (A Cookie and Cream Cozy Mystery Book 1)
by K.J. Emrick


(147 Reviews)
Genre: Mystery | Mystery, Thriller & Suspense
FREE for a limited time
"I can't get a pulse. Cookie, call for an ambulance."
Definitely not the words you want to hear when a man has just collapsed in the middle of your bakery.
A few minutes is all it took for Karen 'Cookie' Williams to be thrust into the center of a nightmare. A customer was dead and she was considered a suspect. Her beloved shop was a crime scene.
Things weren't looking so great for her.
If you add in the strange figure that was lurking around at night, the prominent businessman who was harassing her to sell up and an unhappy granddaughter who was spending the summer with her you had a recipe for disaster.
Can Cookie work out who killed her customer and save her bakery from ruin before she becomes a victim herself?
Click here to get this book for FREE
° ° ° ° ° ° ° ° ° ° ° ° ° °
TWO TOXIC: A Two-Volume Thriller and Mystery Omnibus
by Lawrence De Maria


(8 Reviews)
Genre: Thrillers
FREE for a limited time
A poisonous pair of mystery thrillers from Pulitzer nominee Lawrence De Maria.
IN 'THE VIRON CONSPIRACY', STRANGE DISEASES RAVAGE PEOPLE, ANIMALS AND CROPS ACROSS THE GLOBE.
A prominent Chicago law firm asks Jake Scarne to look into the case of a business executive murdered while on a corporate retreat in Hawaii. Then, the lawyers reveal that their client is the murdered executive's widow – a woman who left Scarne at the altar years earlier! Against the backdrop of his own personal turmoil, the dogged private eye soon uncovers an international conspiracy fueled by perverted science. And with thousands, perhaps millions, of lives at stake, he finds that he is not the only one tracking biological terrorists.
"While De Maria may have been an award-winning financial reporter, he's an awfully good fiction writer as well." (NAPLES DAILY NEWS)
***
IN 'SIREN'S TEARS', A BEAUTIFUL SCIENTIST WITH DADDY ISSUES BECOMES A SERIAL KILLER.
The death of a spider monkey in a South American rain forest is the prelude to unsolvable human murders in Canada and the United States. Only when private investigator Alton Rhode is approached by a suspicious priest does the killer have anything to worry about. Rhode has doubts about the cleric's story. But urged on by an unlikely underworld ally, he begins a hunt that spans thousands of miles. And himself becomes the hunted!
"More chills and thrills, as an intrepid P.I. hunts a Black Widow serial killer. SIREN'S TEARS, from Pulitzer-nominee Lawrence De Maria, is another winner." (John Crudele, NEW YORK POST)
Click here to get this book for FREE
° ° ° ° ° ° ° ° ° ° ° ° ° °
Plantagenet Princess, Tudor Queen: The Story of Elizabeth of York (Plantagenet Embers Book 1)
by Samantha Wilcoxson


(204 Reviews)
Genre: Historical Fiction | Biographical
FREE for a limited time
She was the mother of Henry VIII and wife of Henry VII, but who was Elizabeth of York? Raised as the precious eldest child of Edward IV, Elizabeth had every reason to expect a bright future until Edward died, and her life fell apart.
When Elizabeth's uncle became Richard III, she was forced to choose sides. Should she trust her father's brother and most loyal supporter or honor the betrothal that her mother has made for her to her family's enemy, Henry Tudor?
The choice was made for her on the field at Bosworth, and Elizabeth the Plantagenet princess became the first Tudor queen.
Did Elizabeth find happiness with Henry? And did she ever discover the truth about her missing brothers, who became better known as the Princes in the Tower?
Lose yourself in Elizabeth's world in Plantagenet Princess Tudor Queen.
This novel has been selected by the Historical Novel Society as an Editors' Choice and long-listed for the 2016 HNS Indie Award.
Click here to get this book for FREE
° ° ° ° ° ° ° ° ° ° ° ° ° °