I seem to spend a lot of time Googling so called "Famous" peoples names to find out who they are and why I should laugh at the meme of them on Facebook. When did I get so out of touch with who is and who isn't famous? Turns out being famous isn't quite what it used to be. Back in my day, if you were famous you were on The Muppet Show, The Donnie And Marie Osmond Show, or Entertainment Tonight. If you were famous, everyone knew who you were …cuz… you were famous. Now days there are a bunch of famous people very few people have heard of because there are too many different places to be famous. You got your YouTube Famous, then your Amazon, Netflix, and Hulu famous, and Vlogs and Blogs. Too many places that people can be famous from. I can't keep up. My cousin in Italy is in a band. He posted a picture of him in concert. I looked at the picture and said "WOW! You're famous!" He said nope, not really? What?? No?? But he looks like he is famous.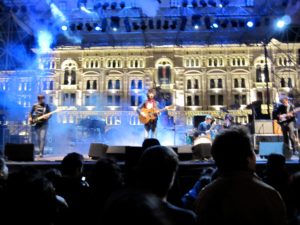 City of Beads: Tubby Dubonnet Series #2 (A Hard-Boiled but Humorous New Orleans Mystery) (The Tubby Dubonnet Series)
by Tony Dunbar


(782 Reviews)
Genre: Mystery, Thriller & Suspense | Nonfiction | Crime Fiction | Thrillers
FREE for a limited time
TUBBY'S CURE FOR BOREDOM: RUN FOR YOUR LIFE!
The SECOND deliciously sneaky mystery in Anthony- and Edgar-nominated Tony Dunbar's Tubby Dubonnet series.
New Orleans lawyer Tubby Dubonnet is bored. He wants to bill enough hours to pay his alimony and keep his daughter in college, with enough left over for an occasional drink and a good meal, but he longs for something different and exciting.
Sure, researching licensing law for the new casino will keep trout meunière on the table, but what could be more tedious? (Unless, of course, the client turns out to be connected.) Meanwhile, there's the estate of an old friend who controls some dock leases on the wharf. And he agrees to help his daughter's environmental group stop illegal dumping in the river.
Ho-hum, thinks our hero. But suddenly all three cases begin to converge in an entirely ominous way-the toxic dumping, the dock leases, and the too-good-to-be-true casino job. How is that possible? Could it be Tubby's been set up as the fall guy in a Mob effort to expand its gambling empire?
NOW it's exciting — he's running for his life!
Click here to get this book for FREE
° ° ° ° ° ° ° ° ° ° ° ° ° °
The Crimson Cord (Daughters of the Promised Land Book #1): Rahab's Story
by Jill Eileen Smith


(270 Reviews)
Genre: Religion & Spirituality | Historical Fiction
FREE for a limited time
Wife to a gambler who took one too many risks, Rahab finds herself sold as a slave to cover her husband's debt. Forced into prostitution by Dabir, counselor to the Syrian king, Rahab despairs of ever regaining her freedom and her self-respect. But when Israelite spies enter Jericho and come to lodge at her house, Rahab sees a glimmer of hope and the opportunity of a lifetime. In one risky moment, she takes a leap of faith, puts her trust in a God she does not know, and vows to protect the spies from the authorities. When the armies of Israel arrive weeks later, Rahab hopes they will keep their promise, but she has no idea what kind of challenges await her outside Jericho's walls–or if she will ever know the meaning of love.
Under Jill Eileen Smith's talented hand, the familiar story of Rahab bursts forth in high definition. Readers will find themselves fully immersed in a world of dark and dusty streets, clandestine meetings, and daring escapes as a mysterious biblical figure claims her full humanity–and a permanent place in readers' hearts.
Click here to get this book for FREE
° ° ° ° ° ° ° ° ° ° ° ° ° °
The Frights of Fiji (Alyssa McCarthy's Magical Missions Book 1)
by Sunayna Prasad


(44 Reviews)
Genre: Children's eBooks | Foreign Languages
FREE for a limited time
A world of magic and adventure awaits…
Sent to live with her strict, aloof, and uncaring uncle after her parents are killed in a car accident, twelve-year-old orphan Alyssa McCarthy longs for the life she used to have — one filled with fun and love. Then one stormy night, a message appears in the raindrops on the window that will change everything.
"Your life will never be the same again, as magic will interfere."
Before long, Alyssa is kidnapped by Master Beau, a banished sorcerer with a mysterious connection to her who can only regain his power by weakening hers. Suddenly hurled into a world of wizardry filled with fantastical beasts and marvelous technology beyond her wildest imagination, Alyssa must defeat Master Beau if she ever wants to get home again. But Master Beau will stop at nothing, including using Alyssa's friends, to ensure he is triumphant.
Click here to get this book for FREE
° ° ° ° ° ° ° ° ° ° ° ° ° °
Whisper of Love (A Whisper Lake Romance Book 1)
by Melanie Shawn


(167 Reviews)
Genre: Romance
FREE for a limited time
Stand-alone Whisper Lake romance, complete with HEA — and plenty of heat and heart along the way!
There is a thin line between love and hate. For Allison Walsh, that line was a tightrope hanging a hundred feet in the air, with no safety net to catch her if–or when–she fell.
Ali was barely treading water after losing her big brother, who was her hero and best friend. His sudden death left her to raise her twin nephews when the man that was supposed to share the responsibility with her went MIA after the funeral.
Kade's MMA training made him a champion, but it never equipped him to fight off the one force beyond his control: his feelings for his best friend's little sister. He's sure his demons mean he's not good enough for her, but he's going to do everything in his power to conquer them.
When the sexy, tattooed fighter shows up on Ali's doorstep out of the blue with a bag hanging over his shoulder and a smile that would make a nun blush, he seems different. But after all he's put her through, Ali's not in a forgive-and-forget kinda mood.
Will Kade prove that he's the man worthy of Ali's heart and trust, or will his past sins determine their future?
Click here to get this book for FREE
° ° ° ° ° ° ° ° ° ° ° ° ° °
The Visitor
by J.T. Gregory


(57 Reviews)
Genre: Literature & Fiction | Horror
FREE for a limited time
The snow falls, thick and wet. Oppressing gusts of wind whip the roadside drifts into a fury, momentarily quelling their biblical attempt to reach the heavens. The sun, hidden bleakly behind thick clouds the color of old laundry, bows offstage to the sound of high-pitched screams that might be the wind, although… although…
A shadow slides through this winter sorrow. The snow falls thicker now. The wind screams sobbingly through the trees and the approaching darkness leaks in behind the shadow, dogging at its heels like pack of black dogs born at midnight. The shadow drifts through the storm, passing trees with branches that clack like old bones, lampposts wearing fuzzy yellow top hats, and brave houses that shiver with every wailing gust, shiver and tremble, but stand.
The shadow stops. To the left, a thicket of trees, their shoulders hunched grumpily against winter's berating. To the right, a pair of velutinous picture frames hover, disappearing intermittently behind bustling wind gusts. The picture frames depict the slow, taffy-like quality of family, warm and sweet. They depict life, that which dangles from the tree of élan vital by a fraying thread, a precious bauble made of paper thin glass and layered quietly with newborn dust bunnies. They depict something the shadow has been looking for. They depict something he won't leave without.
It was snowing when he came…
Click here to get this book for FREE
° ° ° ° ° ° ° ° ° ° ° ° ° °