I just realized it's already August, and I haven't really started training yet for the September 20th Area 51 event. I just know that I am going to be put in the group that has to do the Naruto run. I can't be in the group of Kyles who drink energy drinks, because my name is not Kyle and I can't stand energy drinks. If I practice, I might make the rock throwing group, but I wasn't sure if they provide the rocks or if it's a BYO rock sorta thing. Rocks are kinda expensive and that would cost a lot in gas money to transport. Plus I still haven't gotten a straight answer from anyone if there is a carpool or not. UGH!!! Naruto runner it is. I have no flexibility in my arms right now, so it's very important that I start stretching for at least 20 minutes a day.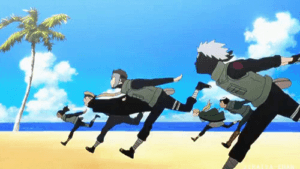 Angel of Death – Debt Collector 5 (A Jack Winchester Thriller)
by Jon Mills


(55 Reviews)
Genre: Thrillers
FREE for a limited time
A wealthy businessman hires Jack Winchester to rescue his daughter from a dangerous cult in Peru, but with Special Agent Baker breathing down his neck, the fanatical leader and his followers may be the least of his troubles.
From Florida to Chicago, Lima to the Amazon rainforest, Angel of Death is a fast paced thriller that grabs you by the throat and doesn't let go until the very last page.
Click here to get this book for FREE
° ° ° ° ° ° ° ° ° ° ° ° ° °
The Spice Bride (The Emberton Brothers Series Book 1)
by Karen Aminadra, Brenda Fiscus, Miranda Stork


(106 Reviews)
Genre: Religion & Spirituality | Historical Fiction
FREE for a limited time
With three ships sunk in one year by Napoléon's navy, Richard Emberton is desperate to save his spice importation business.
While collecting his daughter from boarding school in England, George Hayward is on the lookout for a new exporter for his spice plantation in India.
With benefits to be reaped by both sides, Richard agrees to marry the plantation owner's daughter.
Certain that her chance at love is being sold to the highest bidder, Grace Hayward feels little more than a slave and is determined she will never be happy again.
With such an inglorious beginning, can love flourish?
***Please note this is a CLEAN Romance***
Click here to get this book for FREE
° ° ° ° ° ° ° ° ° ° ° ° ° °
Whisperworld
by Aron Christensen, Erica Lindquist

(25 Reviews)
Genre: Science Fiction | Science Fiction & Fantasy
FREE for a limited time
Their voices are all that remain
The Wrath of God destroyed the old world and what's left of humanity huddles in the shadows of the Tears, strange black spheres that protect the last cities from the storms. No one knows what they are or how they work, but if you listen, you can hear them whispering… But now the spheres are failing, falling silent.
When one of the Gardeners who protect and maintain the Tears is murdered, Julia and her partner, Zach, are summoned to find out why. Their search for a killer will take them from Angel City's crumbling skyscrapers to the salt flats of the Pacific Desert.
But what they find goes far beyond murder, threatening to wipe out the last remnants of civilization. Perhaps they can save their city – but first they have to save themselves.
Click here to get this book for FREE
° ° ° ° ° ° ° ° ° ° ° ° ° °
Men and Martinis: Hilarious Chick Lit/Romantic Comedy (Girlfriends of Gotham Book 1)
by Delancey Stewart


(53 Reviews)
Genre: Humor & Entertainment | Literature & Fiction | City Life
FREE for a limited time
Bridget Jones meets Sex and the City (with a little bit of Bridesmaids thrown on top!)
A group of twenty-something girlfriends find themselves in New York City in the midst of the 90s dot-com boom. They've got killer jobs, killer clothes, and each other — what could go wrong?
Everything, and usually in the most hilarious way possible.
The first Girlfriends of Gotham's book follows the life of NYC newcomer Natalie Pepper. She's a California girl, a fish out of water, and she's going to make it on her own in the big city despite a massive crush on a coworker (a no-no), a boss that can't seem to get her name right, and a group of friends creating all kinds of chaos of their own.
If you loved Bridget Jones and miss Sex and the City, this laugh-out-loud series will scratch that itch. Dive in today!
Click here to get this book for FREE
° ° ° ° ° ° ° ° ° ° ° ° ° °
Black Jack
by Max Brand


(60 Reviews)
Genre: Literature & Fiction | Westerns
FREE for a limited time
The moment he rose out of the chair and faced them, Gainor had stopped short. He was quite capable of fast thinking, and now his glance flickered from Terry to the sheriff and back again. It was plain that he had shrewd suspicions as to the purpose behind that call. The sheriff was merely confused. He flushed as much as his tanned-leather skin permitted. As for Terry, the moment his glance fell on the sheriff he felt his muscles jump into hard ridges, and an almost uncontrollable desire to go at the throat of the other seized him. He quelled that desire and fought it back with a chill of fear.
Click here to get this book for FREE
° ° ° ° ° ° ° ° ° ° ° ° ° °
Master Photo Aperture! (On Target Photo Training Book 4)
by Dan Eitreim


(82 Reviews)
Genre: Arts & Photography
FREE for a limited time
Master Photo Aperture
Using the correct aperture is vital if you want to put the "WOW!" factor into your photography!
Sure, it controls the amount of light getting into the camera and is a key to proper exposure, but it is soooo much more! In fact, if you are creative at all, aperture will soon be your closest friend.
That is, it will be your friend IF you know all the creative options that the right aperture settings bring to the table – and how to manipulate them to get your creative vision out of your mind and into the camera.
For some reason, understanding aperture is one of the most difficult of photo concepts for many amateurs to "get." With this easy to read and easy to understand guide, you are literally minutes away from understanding aperture as well as – or better than – most professionals.
In a matter of hours your mastery of aperture settings will not only show in your photos… but people WILL notice!
Click here to get this book for FREE
° ° ° ° ° ° ° ° ° ° ° ° ° °