I am so obsessed with my little bee swarm I caught this Summer. They are working hard and being so productive.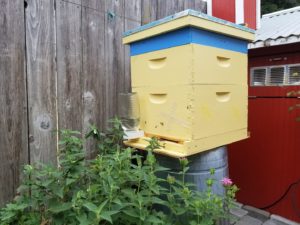 Whispers in Colorado (Colorado Crazy Book 2)
by Milan Watson


(46 Reviews)
Genre: Literature & Fiction | Contemporary Fiction | Romance
FREE for a limited time
Will this ice queen drop her armor of frost long enough to let in the handsome vet?
When Jasmine Tate returned to the Double T, she didn't expect to stay for long. She had fled as soon as she was old enough to build a life for herself in New York, but when her father died Jasmine realized how much she had missed out on.
When she meets Jack Turner, country vet, the attraction is instant. But Jack is nothing like the men she's used to dating. He's dark, broody, and has shadows that haunts his hazel eyes. Something about him scares Jasmine.
Scares her that she'll lose her heart in Colorado.
Jack doesn't want to fall in love with Jasmine. She's all city and he's country. But when he looks close enough he sees the real Jasmine, a woman that could crush his heart if he let her.
Will Jasmine be able to ignore the broody vet forever? Can Jack allow himself to fall in love again? Whispers in Colorado is a ranch romance guaranteed to tease your senses and make you dream of cowboys again. Hit the one-click button now to get your copy.
Click here to get this book for FREE
° ° ° ° ° ° ° ° ° ° ° ° ° °
Bad Moon On The Rise (Casey Jones Mystery Series Book 6)
by Katy Munger


(58 Reviews)
Genre: Literature & Fiction | Humor & Satire | Mystery
FREE for a limited time
SHE SWORE SHE'D NEVER GO BACK — BUT ORANGE IS HER NEW BLACK —
"DON'T MISS HER!" –JANET EVANOVICH
This has to be said right up front: BAD MOON ON THE RISE features the all-time best ever laugh-out-loud prison break! Seriously, if anybody else tried this, they'd end up on America's Dumbest Criminals, for sure. But with author Katy Munger's trademark blend of nail-biting suspense and hilarity, Casey Jones gets her man, as always – and, as always, he's the hottest guy in the bar.
In this rip-roaring romp of a mystery, big, badass smart-mouthed Casey, the hard-boiled female PI with the thunder thighs and the bunny-soft heart, suddenly finds herself out of her familiar Durham hood and following a trail to a North Carolina prison town. She's looking for a basketball star who's spent his young life taking care of his drug-addicted mother, and now they've both dropped off the radar.
Armed with a suitcase full of Little Debbie cakes to tide him over, her rotund semi-boss, private investigator Bobby D, accompanies her up the mountain to provide back-up for her – and entertainment for the reader. Under assumed names – Bobby assigns Casey the identity of "Debbie Little" – they set up headquarters in a floral-frumped Victorian B&B whose patrons are scandalized by Casey's walk of shame after a historically rowdy night with the handsome stranger she met in the local bar – who turns out to be the sheriff!
Casey's new squeeze is disturbed by suspicious goings-on in the prison, where the boy's mom once served time, and offers to help Casey get inside to get information on her in exchange for whatever she can learn about his investigation. And just like that, Casey decides not to be controlled by her past – a past that includes eighteen months in a Florida prison when she took rap for her drug dealer husband. She decides to place her trust in the good mountain man who's asked for her help and to do the hardest thing she can imagine: agree to be locked up for a week inside a prison once again.
Can this be our Casey? The one who's done being dumb about men? Before it's all over, she will learn a few lessons about who her true friends are, settle several old scores, lay some fears to rest, and give up the shameful secret she's never shared with any man: her prison record. What could this mean? Has she finally found a man she can trust, or is she just finally backed into a corner that the usual lies of omission can't cover?
BAD MOON ON THE RISE will delight fans of female sleuth mysteries — especially private eyes like Sue Grafton's Kinsey Millhone, Sara Paretsky's V.I. Warshawski, Laura Lippman's Tess Monaghan, Marcia Muller's Sharon McCone, and Janet Evanovich's Stephanie Plum, as well as their tough and witty male antecedents, Philip Marlowe, Spenser, and, of course, the immortal Nero Wolfe and his buddy Archie, to whom Bobby D. and Casey bear more than a passing resemblance.
Click here to get this book for FREE
° ° ° ° ° ° ° ° ° ° ° ° ° °
Dark Dragon's Wolf (Darkwing Dragons Book 2)
by Anastasia Wilde


(56 Reviews)
Genre: Romance | Fantasy
FREE for a limited time
Mayah, princess of the Draken House of Al-Maddeiri, has been haunted by ghosts for years. Visions, dreams, and nightmares — ghosts reaching out to her, begging her to save them.
But how do you save people who are already dead?
Tristan Barnes is supposed to be Mayah's healer, reaching into her mind with his white wolf powers to fix the damage, slay the ghosts, and coax her lost dragon back out into the world.
It's bad enough that he's lost his professional distance and fallen head over paws for his sexy, feisty patient. Even worse, being near Mayah is opening up old wounds. His hard-won sanity and stability are slipping away, and the ghosts of his own past are coming back to haunt him — literally.
But what will happen when they find out they're seeing the same ghosts — and that they aren't really ghosts at all?
Tristan and Mayah will have to break all the rules, and face their own fears, to finally save the ghosts — and each other.
Click here to get this book for FREE
° ° ° ° ° ° ° ° ° ° ° ° ° °
Life in Chapel Springs (Chapel Springs Series Book 4)
by Ane Mulligan


(42 Reviews)
Genre: Classics | Religion & Spirituality | City Life
FREE for a limited time
Is it a midlife pregnancy or cancer? Claire will keep her secret until she's sure but it's not easy. Neither is trying to buy a home pregnancy test without anyone finding out. Between her twins double wedding, the caterer canceling, a looming nationwide art tour and her health, Claire's life is upside down.
Shy Lacey Dawson was happily writing murder mysteries for the community theater with her eye on Broadway. Then, a freak accident causes her traumatic injuries requiring facial reconstruction. When the bandages come off, Lacey's world is tuned inside out. Will Chapel Springs rally behind its own… or will life unravel?
When the mayor announces he has found quartz on his land, the local TV station reports: "Where there's quartz, there's gold." Then Mayor Riley discovers Howie Newlander has bought the mineral rights to his land. Howie and his nefarious investors are struck with gold fever and set out to buy all the homes in Chapel Springs in order to mine the gold. Will life in Chapel Springs become the tailings of a gold mine?
Written for the General Market (G) (I): Contains little or no; sexual dialogue or situations, violence, or strong language. May also contain some content of an inspirational/religious nature. Similar women's fiction novels in this genre may be categorized as: women's fiction, inspirational women's fiction, christian fiction, and clean, wholesome women's fiction.
Click here to get this book for FREE
° ° ° ° ° ° ° ° ° ° ° ° ° °
Highway To Armageddon
by Harold Bloemer


(26 Reviews)
Genre: Action & Adventure | Literature & Fiction | Science Fiction
FREE for a limited time
In the year 2150, a trio of young bounty hunters attempt to stop an enigmatic cult leader from unleashing nuclear Armageddon. An action-packed, sci-fi thriller.
In the not-too-distant future, climate change has wreaked havoc upon the world, decimating the global economy and bringing the United States and China perilously close to nuclear war. In order to make ends meet, 18-year olds Lance and Boom Boom have taken up bounty hunting. As it turns out, they're pretty damn good at catching crooks. With their sassy and voluptuous side-kick, Krystal, there's no criminal these teen bounty hunters can't track down. Their streak of outwitting bad guys comes to a screeching halt, however, when one of their targets, mobster kingpin Caesar Dominguez, turns the tables and puts a bounty on their heads… a cool $10 million.
If Lance, Krystal, and Boom Boom want to reach their 20s, they'll need to cash in on a lucrative bounty that gives them the resources to disappear. They're granted that opportunity when President Angela Klaxton offers an unprecedented $25 million reward for the apprehension of Russian cult leader Mikhail Rasputin, a brilliant yet sadistic terrorist hellbent on bringing about the apocalypse. If they acquire that bounty, Lance and his female companions will be able to vanish into the shadows, shielded from the horrors of the outside world as they enjoy a life of stupendous comfort typically reserved for rich aristocrats.
The task of hunting down Rasputin is easier said than done, of course. The trio must first traverse the crime-riddled wasteland of America, avoiding the throngs of bounty hunters and criminals who would love nothing more than to bring their severed heads to Caesar. And when they finally do reach Rasputin's rumored hideout, they stumble upon a conspiracy that could reduce the Earth to radioactive ash. Lance, Krystal, and Boom Boom started this voyage with the intention of making some serious dough. They end up, however, being the only people standing in between continued peace and a catastrophic nuclear war.
Click here to get this book for FREE
° ° ° ° ° ° ° ° ° ° ° ° ° °