This morning I was greeted by this crew. There are a few babies in there as well. I made sure to keep my distance a bit, since the parents were keeping a close eye on me. I am certain they are used to humans and really have no fear of them. That's the vibe they gave me when I got closer and closer to them to get as good a picture as I could. We have been camping here for years, and its not that common for them to come over here. The wild life here has been pretty entertaining. The squirrels trying (and sometimes succeeding) to steal your lunch, the ducks loudly demanding treats, and the frogs who like to join you in the shower. Cheeky frogs!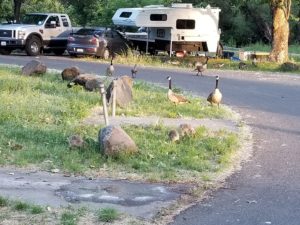 Hungry Like the Wolf (SWAT Book 1)
by Paige Tyler


(314 Reviews)
Genre: Romance | Suspense | Foreign Languages
FREE for a limited time
"Hot, action-packed, and sexy as hell."-Sara Humphreys, award-winning author of Vampire Trouble
INTRODUCING SWAT: SPECIAL WOLF ALPHA TEAM
They're tight
They're on target
They're as alpha as men can get
The Dallas SWAT team is hiding one helluva secret… they're a pack of wolf shifters.
The team of elite sharpshooters is ultra-secretive-and also the darlings of Dallas. This doesn't sit well with investigative journalist Mackenzie Stone. They must be hiding something… and she's determined to find out what.
Keeping Mac at a distance proves impossible for SWAT team commander Gage Dixon. She's smart, sexy, and makes him feel alive for the first time in years. But she's getting dangerously close to the truth-and perilously close to his heart…
Click here to get this book for FREE
° ° ° ° ° ° ° ° ° ° ° ° ° °
Cowboys of Chance Creek Vol 0 – 2
by Cora Seton

(330 Reviews)
Genre: Romance
FREE for a limited time
Three fast-paced, full-length, sexy western romance novels in one set! Available for a limited time only. Including:
The Cowboy Inherits a Bride: When a big city chef and a hometown country boy go toe to toe to win an inheritance, the competition gets smoking hot.
The Cowboy's E-Mail Order Bride: When Ethan Cruz's friends set him up with an e-mail order bride, what's a cowboy to do but play along?
The Cowboy Wins a Bride: Jamie Lassiter's wanted his best friend's sister as long as he can remember, but before he can make his move, she announces her intention to leave Chance Creek–and never come back. Now he's made a desperate bet–if he can't convince her to stay with him, he'll pay for her whole trip. Can he change her mind in time?
Click here to get this book for FREE
° ° ° ° ° ° ° ° ° ° ° ° ° °
STOP AT NOTHING: Introducing America's No.1 Covert Agent – Mark Cole
by J.T. Brannan

(193 Reviews)
Genre: Action & Adventure | Thrillers
FREE for a limited time
Mark Cole is a deniable operative for the US government, a patriot who is always willing to give his life for his country. Living in the Caymans with his wife and two children, he is no longer fully active, but due to his unique abilities he is called upon to perform a difficult assassination. The target is the Director of the CIA's National Clandestine Service; but after the mission, Cole becomes a target himself. And as the forces against him mount up relentlessly, he realises that greed and hunger for power at the highest levels means that he can trust nobody. Cole discovers that not only are thousands of lives at risk, but his own wife and children are threatened. Pushed into deciding whether to protect global security or to save his family, Cole vows that he will stop at nothing to do both – whatever the cost.
Click here to get this book for FREE
° ° ° ° ° ° ° ° ° ° ° ° ° °
Amish Deaf
by Alice Evans


(9 Reviews)
Genre: Religious & Inspirational Fiction | Religion & Spirituality
FREE for a limited time
Rebecca is a single Amish woman turning thirty and she has all but given up hope of finding a husband. She works as a teacher in the outside world and has a boy in her class who is deaf. Trained in sign language, she bonds with the boy who seems to be in desperate need of a mother as his own had passed away years earlier. She eventually meets the boy's father and the attraction is immediate. But the father, like the son, is deaf in a figurative way as he cannot feel anything beyond his the psychological trauma he suffered with his wife's passing. Can Rebecca break down these barriers and make them whole again?
Click here to get this book for FREE
° ° ° ° ° ° ° ° ° ° ° ° ° °
CALIFORNIA BLOOD
by Pete Palamountain


(28 Reviews)
Genre: Thrillers
FREE for a limited time
VIOLENCE IN TRIPLICATE in Garvey, California, a small town at the foot of Mt. Baldy.
Suicide of a wandering derelict who returns home after forty years.
Murder of a wealthy matriarch at her estate in the hills above the San Gabriel Valley.
Murder of a charismatic Catholic priest after conducting Monday morning Mass.
Is there a common factor? Are the three deaths related? Is there more violence to come?
Police Chief Duffield (Duffy) Lear and newspaperwoman Matricia (Mattie) Lee team up to find out.
And Egypt Rosen, Mattie's P.I. friend from neighboring Covina, lends a hand.
Click here to get this book for FREE
° ° ° ° ° ° ° ° ° ° ° ° ° °
Seriously Mum, How Many Cats?
by Alan Parks


(54 Reviews)
Genre: Crafts, Hobbies & Home
FREE for a limited time
SERIOUSLY MUM, HOW MANY CATS?
Could you give up everything you have worked for and do something completely different?
Would you give up and go home if it all went wrong?
After six years of living in the olive groves of Andalucia, Alan and Lorna should have adjusted to Spanish life, but things never seem to run smoothly. When Lily the alpaca falls pregnant, they are in for an anxious few months as they battle against the odds to keep themselves afloat.
'In Seriously Mum, How Many Cats?' there is concern that the cats are going to take over the farm. There are cats in the barn, cats in the garden and even a cat invasion in the bedroom one night.
Exploding tyres, flamenco dancing, religious parades and, of course, all your favourite animals return once again to entertain you in the latest story about these much-loved expats.
Click here to get this book for FREE
° ° ° ° ° ° ° ° ° ° ° ° ° °