I should not be so excited that I got a new vacuum, but I am. I think this is the sign that I need to add a little more excitement to my life. Nothing that keeps me up past 7:30pm though. I'm not crazy. I know what you are thinking, "What about the excitement of being a Killer Bee Beekeeper?" I know that's what you were thinking. No?.. oh..okay. Yes, I know they are not killer bees, but they do fight. I was hanging out by a weed and clover patch that is in my front lawn yesterday, trying to take pictures of the bees foraging. I noticed a small bee-like guy bouncing from one flower to the next, when a honey bee came in and attacked the little critter. The bee pounced on her like a puma! Punches were thrown and awesome ninja kicks made contact with incredible speed. The little one got the hint fast and left. Crazy to watch. I had my camera on them the whole time. I didn't get a single picture. I am a lousy photographer. Believe it or not, there are bees in the picture below. I think.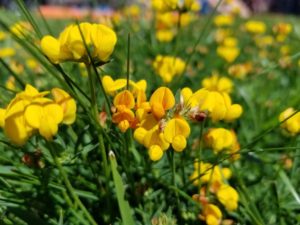 Nobody
by Creston Mapes


(178 Reviews)
Genre: Religious & Inspirational Fiction | Religion & Spirituality | Contemporary Fiction
FREE for a limited time
They Said He Was a Nobody. They Were Dead Wrong.
When reporter Hudson Ambrose hears an early morning call on his police scanner about an injured person at a bus stop on Las Vegas Boulevard, he rushes to the scene to get the scoop. His world is blown off its axis when he discovers a murdered homeless man with a bankbook in his pocket showing a balance of almost one million dollars.
Should he wait for the police, knowing the case will get lost in reams of red tape, or swipe the bankbook and take the investigation–and perhaps a chunk of the money–into his own hands?
With sirens bearing down on the scene, Hudson makes an impulse decision that whisks him on a frantic search for answers, not only about the mysterious dead man, but about the lost soul lurking within himself.
Uncovering bizarre links between a plane crash, a Las Vegas pit boss, a dirty cop, and a widowed Atlanta business mogul, Hudson is forced to find out: who was Chester Holte, what was he doing on the streets, and why are his homeless friends convinced he was an angel in disguise.
Click here to get this book for FREE
° ° ° ° ° ° ° ° ° ° ° ° ° °
Chasing Eva (In Light of Shadows Series Book 1)
by Camellia Hart

(333 Reviews)
Genre: Romance | Literature & Fiction | Contemporary Fiction
FREE for a limited time
When Eva and Clive meet in the office elevator fifteen years after they've seen each other last, their mutual attraction not dulled one bit, they're tempted to explore their intense, undeniable, chemistry further.
But then Eva discovers that the sinfully gorgeous Clive is the powerful businessman who's causing her company's downfall. She's determined to sway her newfound enemy to reconsider his betrayal. They're not even halfway through that debate, when they're drawn to each other with a force neither of them anticipates.
Having lived through her share of disloyal relationships Eva's sworn off heartbreaker men. No way she'll fall for this assertive, enigmatic playboy.
But Clive isn't one to give up that easily, or at all for that matter. She doesn't know, he's been chasing Eva since their first kiss fifteen years ago.
Click here to get this book for FREE
° ° ° ° ° ° ° ° ° ° ° ° ° °
Yesterday's Gone: Season One
by David Wright, Sean Platt, Jason Whited


(1,266 Reviews)
Genre: Science Fiction | Science Fiction & Fantasy | Horror
FREE for a limited time
They thought they were alone. They were wrong.
On October 15th, humanity went missing.
A handful of scattered survivors wake to find the world empty of friends, family, and neighbors.
Among them, a child searches for his family. A special agent turned enemy of the state survives a fiery plane crash with no way to reach his daughter. A serial killer discovers he's no longer at the top of the food chain.
Now these strangers must find the strength inside them to weather the new world.
But they are not alone.
In the absence of civilization, a new threat emerges. In the stillness, it waits and watches, preying on their weakness. Their only hope is to find more survivors, rise above their fear, and face the oncoming darkness.
But can they unite before they too are lost? And can they all be trusted?
Season One of Yesterday's Gone by Sean Platt and David W. Wright is a tense post-apocalyptic thriller that will leave you guessing to the end.
Combining TV's thrilling, episodic nature with the in-depth character only found in novels, Yesterday's Gone is a new wave in fiction. If you like The Stand and LOST, you'll love this series that combines tension, intrigue, and fear of the unknown.
Get Yesterday's Gone now and see who lives and who dies!
(Warning: This book is intended for mature audiences and contains disturbing and potentially offensive material.)
Click here to get this book for FREE
° ° ° ° ° ° ° ° ° ° ° ° ° °
Nefarious: Sailboat Racing In The Salish Sea
by Antonio J. Hopson

(31 Reviews)
Genre: Sports & Outdoors | Literature & Fiction
FREE for a limited time
Animal House meets Moby Dick. Phenom Robin Mac Bradaigh, aka "Mac," a young, fiery, unapologetic sailor who refuses to be pushed around by a fleet of scoundrels. Nefarious is a fictional account of real-life sailboat racing; literary, funny at times, sexy and poetic. A handbook of human drama and competition. Max Rigby falls for Mac, the pit-girl from S/V Nefarious, a sailing vessel that lives up to its name. The woman who has awakened his heart is the fleet's most fierce sailor, but Nefarious carries a dark reputation, and Max soon finds himself caught up in a sailing race that is as dangerous as it is thrilling.
Click here to get this book for FREE
° ° ° ° ° ° ° ° ° ° ° ° ° °
Nutella Recipes: The Ultimate Collection of Over 50 Recipes
by Jonathan Doue


(46 Reviews)
Genre: Cookbooks, Food & Wine
FREE for a limited time
* The Ultimate Nutella Guide! *
Nutella is one of the most desired delicious spreads and desserts gaining popularity since its creation in the 1940s. We have collected 50 of the most delicious and best selling recipes from around the world! Not just spread or topping uses but actual recipes including Nutella. Nutella for breakfast, lunch, dinner, and dessert. For any and every occasion. The list goes on and the possibilities are endless. Enjoy!
Take a peak at a few of the recipes inside!
Nutella Brownies
Nutella Baklava
Nutella Biscotti
Nutella Eggnog
Nutella Cookies
Nutella Hot Chocolate
Click here to get this book for FREE
° ° ° ° ° ° ° ° ° ° ° ° ° °