Sometimes in the morning when I think about what I am going to write, all I hear is white noise between my ears. My friends joke a bit and say that's the only noise between my ears. I laugh because they are my friends and they often feed me treats, so it's all good. HAHA. This morning the white noise was especially loud, so I went to Facebook to see if there was anything interesting happening. There wasn't, but I did find this awesome meme that made me laugh so hard. It's me…so me. The hair is spot on!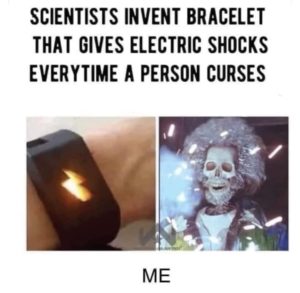 Forever Mine: A Humorous Romantic Mystery (Amber Reed Mystery Book 3)
by Zanna Mackenzie


(44 Reviews)
Genre: Mystery | Mystery, Thriller & Suspense
FREE for a limited time
A movie star stalker. A mountain ski lodge dripping in luxury. A moment that changes everything.
Stalkers, shootings and sassy special agents. All part of being famous, right? Well, they are for Oscar-winning actress Amelia Kingston when she starts getting deeply disturbing and threatening notes left by a stalker. When her boyfriend Ty is shot she calls in the Celebrity Crimes Investigation Agency (CCIA) the elite agency who specialize in solving crimes for the rich and famous.
The CCIA send new recruit Amber Reed and her rather handsome special agent partner Charlie undercover to Amelia's luxury mountain chalet to investigate.
Circumstances force the agency to pull Charlie off the case, meaning Amber has a new crime-fighting partner to try and catch the stalker with – and he's trouble with a capital T! He throws Amber's life into chaos, making her question herself and her abilities as well as her relationship with Charlie.
Can the two of them manage to pull together and stop the stalker before anyone else gets shot?
Click here to get this book for FREE
° ° ° ° ° ° ° ° ° ° ° ° ° °
The Tiger (Chronicles of An Imperial Legionary Officer Book 2)
by Marc Alan Edelheit


(401 Reviews)
Genre: Fantasy | Science Fiction & Fantasy | Action & Adventure
FREE for a limited time
Abandoned and cut off from friendly lines, Stiger takes the fight to the enemy!
A nobleman from an infamous family, imperial legionary officer, and a born fighter… Captain Ben Stiger captured Castle Vrell and rid it of a minion of a dark god. Now he finds himself cut off from the empire with a hostile rebel army marching on the legion's fortress where they guard the entrance to the Vrell Valley. It is not in Stiger's nature to simply wait for the enemy. Badly outnumbered and facing odds greater than twenty to one, he sets out to impede the enemy's advance and show them the steel that the legions are made of. To help him on his way he has the services of his friend, Eli one of the last remaining elven rangers. As if matters could not get worse, an army of dwarves is preparing to retake Castle Vrell, a sacred place they name Grata'Kor.
There are forces at play greater than Stiger can imagine. To survive, he must not only contend with a well-supported rebel army, but a hostile dwarven nation intent on fulfilling a mysterious prophecy that has the potential to shatter the world and bring ruin to the empire.
The battle to save the empire and the world continues in this action packed adventure.
Click here to get this book for FREE
° ° ° ° ° ° ° ° ° ° ° ° ° °
The Time Under Heaven
by Laurinda Wallace


(33 Reviews)
Genre: Literature & Fiction | Contemporary Fiction | Women's Fiction | Religious & Inspirational Fiction
FREE for a limited time
Forced to leave her beloved Kenya because of illness, missionary Ruthanne Carroll begins a painful journey to reconnect with her estranged sisters. The façade of perfection, her sister Elizabeth is so desperate to maintain, crumbles when Ruthanne unexpectedly shows up on her doorstep. Melody's life is floundering, sinking deeper into the abyss of debt, divorce, and hopelessness. Faced with the seriousness of Ruthanne's prognosis, the sisters begin a faltering reconciliation with unexpected results. A journey into the past reveals Ruthanne's long-kept secret which will change each sister forever.
Laurinda Wallace's debut novel is an uplifting tale about family and faith, a sweeping story of three women coming to terms with their shifting roles as daughters, sisters, or mothers. Join her indelible characters on a journey of discovery and reconciliation as the steady, inexorable rhythms of life play out. – Rosebud Communications
Click here to get this book for FREE
° ° ° ° ° ° ° ° ° ° ° ° ° °
A Thread in the Tangle (Legends of Fyrsta Book 1)
by Sabrina Flynn


(117 Reviews)
Genre: Science Fiction & Fantasy | Fantasy | Mythology & Folk Tales | Teen & Young Adult
FREE for a limited time
Have you ever sparked an unforgivable disaster?
Isiilde has, and now she must live with her mistake.
No one can choose the blood they are born to. Isiilde knows this more than most. She is a nymph – a faerie in a realm of humans. Coveted by men and gods alike, she is destined to be sold when she comes of age. Threatened with imprisonment, her formidable guardian, Oenghus Saevaldr, flees with her to the Isle of Wise Ones to beseech a mad seer for refuge.
A secret sways the seer, but his choice comes at a cost. A thousand wars have been fought over possession of a single nymph, and this one's mere presence proves disastrous. Isiilde's strange affinity with fire, stemming from Chaos itself, makes her a dangerous prize.
As Oenghus strives to carve a future for the nymph, Isiilde trembles on a precipice, caught between the lust of men, the greed of kings, and an eternal struggle for dominance. As three powerful kingdoms vie to own her, the fire in her blood awakens, sparking a cataclysm that spirals into disaster.
Click here to get this book for FREE
° ° ° ° ° ° ° ° ° ° ° ° ° °
The Contract: Kill Jessica White (A TAKEN!/TANNER Novel Book 1)
by Remington Kane


(85 Reviews)
Genre: Thrillers | Suspense
FREE for a limited time
After Jessica's husband learns that a relentless hit man named Tanner was offered the contract to kill his wife, he goes in search of Tanner, which leads to a showdown between the two deadly men.
Click here to get this book for FREE
° ° ° ° ° ° ° ° ° ° ° ° ° °