A mystery in the garden! I had added a little pond and fountain at the back of the garden, and I had filled it with water over a month ago, A few weeks ago I had added a little fountain, and in that time everything was going just fine. In the last few days, I have gone out in the morning to find the fountain knocked over and the pond almost completely empty, with maybe only two inches of water left. My first thought was raccoons. The first morning I fixed the fountain, and filled the pond. I should mention the pond is a metal water trough for cattle, that is also lined with water sealer. The second morning I found the pond in the same condition so I fixed it again, but this time put bricks around the pump with a rock on top so it wouldn't tip over. I found it this morning, not tipped over, but still empty. During the day there are no issues, so what on Earth is happening at night? The little fish are getting a headache, so I better figure this out.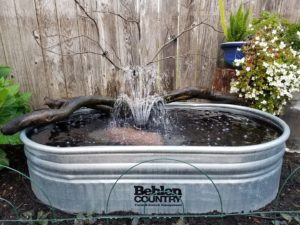 Night Watchman (The Tubby Dubonnet Series Book 8)
by Tony Dunbar


(477 Reviews)
Genre: Mystery, Thriller & Suspense | Thrillers | Mystery
FREE for a limited time
SOME MEAN-ASS CHICKENS COME HOME TO ROOST in this EIGHTH entry in the Tubby Dubonnet series.
"The literary equivalent of a film noir -fast, tough, tense, and darkly funny"… -Los Angeles Times Book Review
The laid-back New Orleans lawyer finds himself caught in a twisted trip down memory lane, distracted by a luscious new love, and, as usual, surrounded by screwball denizens of everybody's favorite city. But he's also caught in someone's crosshairs, and so are half the cast of crazies and screwballs. Which makes for a delicious mix of danger and humor (with a dash of romance!), best consumed with a tall cold one and a bag of Zapp's Spicy Cajun Crawtators .
When in the 1970s a young war protester is killed in broad daylight on Canal Street, it appears that his murder will be forgotten, a back page story lost in the big news of an especially violent era. But a youthful Tubby chanced to see it happen, and the tragic event's haunted him throughout his life. Decades later, an established (but not exactly driven) lawyer, yet successful enough to have time on his hands, Tubby decides to conduct his own investigation into the forgotten crime. He quickly stirs up a hornets' nest of far-reaching political feuds, police corruption, government agents, and old men with secrets to hide.
But as in all Tubby Dubonnet novels, the plot takes a backseat to local color, colorful characters, odes to fine food, wry observations, and a whole lot of humor. It's a little like spending a weekend in da Big Easy, dawlin'–complete with three well-chosen meals a day!
Click here to get this book for FREE
° ° ° ° ° ° ° ° ° ° ° ° ° °
Morna's Legacy: Books 1, 2, 2.5 & 3: Scottish, Time Travel Romances (Morna's Legacy Collections)
by Bethany Claire


(395 Reviews)
Genre: Historical Fiction | Literature & Fiction | Romance
FREE for a limited time
This Morna's Legacy Collection contains the following books:
LOVE BEYOND TIME – BOOK 1: When Texas Kindergarten teacher, Brielle Montgomery accompanies her archaeologist mother on a dig in Scotland, they discover a secret spell room below the castle ruins. Bri finds herself transported back in time and suddenly married to the castle's ill-fated Laird. Now, she must work to change the fate of his people, not only to save herself, but to rescue the man she's come to love.
LOVE BEYOND REASON – BOOK 2: When the only woman to ever steal Arran Conall's heart falls prey to ancient magic, she is transported to a time centuries ahead of him. Believing she is gone forever, he marries another to save her from an evil suitor, but his love for Blaire haunts him. Hundreds of years in the future, Blaire MacChristy lives each day adjusting to modern life. When visitors from her past arrive asking her to return, Blaire takes a chance on love. Will fate find a way to mend their broken hearts? Will they be able to stop the darkness that is coming for them both?
A CONALL CHRISTMAS – A NOVELLA – BOOK 2.5: Christmas is approaching, and Adelle is determined to make it the best one Conall Castle has ever seen, but loneliness haunts her. Hew Moray has spent the last twenty years all alone. When a storm causes him to seek shelter at Conall Castle, he meets the first lass since the death of his wife to make his heart flutter in his chest once again. Can he release himself from his past grief to allow another love to enter his life? If he does, will his love be returned?
LOVE BEYOND HOPE – BOOK 3: After Mitsy's divorce, she flies to Scotland to forget about her own problems by helping her best friend. She finds few who know how to take her fiery personality in the seventeenth century, but she finds her match in Baodan, laird of McMillan Castle. The more time she spends with him, the harder she falls, but a dark secret from Baodan's past holds him back. Mitsy works to uncover the truth in the hopes that resolution will free him. But the truth is darker than she expects, and it threatens to destroy them both.
Click here to get this book for FREE
° ° ° ° ° ° ° ° ° ° ° ° ° °
The End of the Line
by Stanley Laine
Genre: Literature & Fiction | Literary Fiction | Coming of Age
FREE for a limited time
"… our old friends now scattered like leaves in the wind… the common fate for all coteries since the dawn of civilization, to dissolve in such a manner, but there is something uniquely tragic and uncommonly ignoble in the way in which it happened to ours."
Five friends grow up together in the shadow of a changing economy in the small factory town of Milford Keynes. The uncertainty of the future ushers in a new understanding of what reaching 'the end of the line' truly means in their lifetime and the tragedies that follow.
Click here to get this book for FREE
° ° ° ° ° ° ° ° ° ° ° ° ° °
Cookies and Scream (Baker Street Cozy Mysteries Book 2)
by CeeCee James


(95 Reviews)
Genre: Mystery | Mystery, Thriller & Suspense
FREE for a limited time
Murder and free recipes! What could go wrong?
Book 2 of 6 in the Baker Street Mysteries- well reviewed for being clean, funny, sweet mysteries.
Tour guide Georgie Tanner has always encouraged her clients to enjoy the realism of an American Revolutionary War reenactment – but today things got a little too real. When one of the actors doesn't get back up after the battle, the crowd is horrified to find out he's really been shot. Patrick Armstrong, local high school teacher, is dead.
Georgie's old high school friend, Terry Brooks, is arrested for the murder. A man with a young wife and a baby, he seems the least likely suspect. But, with hundreds of people as witnesses, there's no denying he was the one who pulled the trigger.
He begs Georgie for help, and she's determined to do her best. After all, he'd never do something like that, would he?
Her sleuthing skills slowly uncover other possible suspects, but, try as she might, she can't shake the sight of the smoking gun gripped in Terry's hand. And then she uncovers something that terrifies her. Suddenly, Georgie is afraid that she may have just sealed the case against her old friend.
Click here to get this book for FREE
° ° ° ° ° ° ° ° ° ° ° ° ° °
Prophet of the Badlands (The Awakened Book 1)
by Matthew S. Cox


(49 Reviews)
Genre: Science Fiction | Science Fiction & Fantasy
FREE for a limited time
For most twelve-year-olds, being kidnapped is terrifying. For Althea, it's only Tuesday.
Her powers of healing make her a precious commodity in the Badlands, a place where the strong write the law in blood. For as long as she can remember, she has lived either as a possession or a goddess. Althea contents herself with captivity as long as she can help others, even those who killed to own her.
After three whole months in the same village, the friendship of a young warrior makes her feel almost like a member of the tribe rather than a prisoner. Alas, raiders seize her yet again. For the first time in six years, being stolen hurts.
Following a reluctant escape, she questions if she should dare risk using her powers to defend herself, and those she has come to love. Her attempt to return to the tribe leaves her lost and alone and, for the first time in her life, trying to stay free.
Alas, two threats far beyond her experience to understand also hunt her. One wishes to use her for his grand scheme — and one wants to destroy her.
Click here to get this book for FREE
° ° ° ° ° ° ° ° ° ° ° ° ° °