I wonder if Santa's elves are feeling the pressure right now to get all those toys made, or if they have been doing it so long that they have it all under control. I'm sure that Santa gets a lot of the electronics like iPhones and Xbox's straight from the manufacturer, so that would take a lot of pressure off, but toys like skateboards and dolls still have to be made by hand. I am sure there are a few rookie elves that are feeling stressed out. Can you imagine the pressure you are under when your boss is Santa? I'm sure he is very nice and all, but that wouldn't be the issue. The issue would be the pressure to not let Santa down. I wonder if teen elves give their parents trouble. Do they go through a rebellious stage? Is that were Goth dolls come from?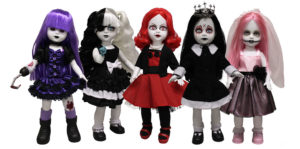 Let There Be Love (The Sled Dog Series Book 1)
by Melissa Storm


(269 Reviews)
Genre: Religion & Spirituality
FREE for a limited time
She longs to uncover her family's hidden past. He wants nothing more than to keep his shameful secrets locked away forever. They didn't expect to fall in love… especially not with each other.
Lauren Dalton's world shattered the day her father died. Now she's willing to move four-thousand miles away from the only home she's ever known in hopes of discovering the truth about his hidden past.
Shane Ramsey's reputation says all anyone needs to know. He's an amazing racer, but a terrible person. When an injury leaves him unable to work his dogs, he must swallow his pride and accept help for the sake of his team.
Will Shane open his home and his heart to the young woman who already shares his greatest love? Will Lauren find her place — and the truth about her family's past — in helping the cantankerous Shane?
Harkening to the great literary traditions of Jane Eyre and Beauty and the Beast, Let There Be Love is a new twist on the most epic of love stories. Don't miss the chance to lose your heart to a courageous team of sled dogs and the humans that love them in this tale set against the breathtaking backdrop of the Alaskan wilderness. Order your copy today!
Click here to get this book for FREE
° ° ° ° ° ° ° ° ° ° ° ° ° °
St. Catherine's Crown
by S. Martin Shelton


(20 Reviews)
Genre: Historical Fiction | War
FREE for a limited time
1917- Empress Alexandria understands that the Bolsheviks will soon topple the Czar. She charges her godson, Kirik Pirogov, to carry the imperial crown of Catherine the Great and a cache of Romanov jewelry to a secret czarist refuge in western China. Alexandra informs her youngest daughter, Grand Duchess Anastasia, of the escape route necessary to carry on the Romanov Dynasty.
Kirik and Anastasia make perilous journeys across Siberia via the Trans-Siberian Railroad. Their story is told against a background of revolution, their hardscrabble life in the Russian village, constant fear of the Soviet secret police, and unscrupulous treasure-hunters.
Click here to get this book for FREE
° ° ° ° ° ° ° ° ° ° ° ° ° °
Hard Luck Hank: Screw the Galaxy
by Steven Campbell


(571 Reviews)
Genre: Science Fiction & Fantasy
FREE for a limited time
Hank is a thug. He knows he's a thug. He has no problem with that realization. In his view the galaxy has given him a gift: a mutation that allows him to withstand great deals of physical trauma. He puts his abilities to the best use possible and that isn't by being a scientist.
Besides, the space station Belvaille doesn't need scientists. It is not, generally, a thinking person's locale. It is the remotest habitation in the entire Colmarian Confederation. There is literally no reason to be there.
Unless you are a criminal.
Because of its location, Belvaille is populated with nothing but crooks. Every day is a series of power struggles between the crime bosses.
Hank is an intrinsic part of this community as a premier gang negotiator. Not because he is eloquent or brilliant or an expert combatant, but because if you shoot him in the face he keeps on talking.
Hank believes he has it pretty good until a beautiful and mysterious blue woman enters his life with a compelling job offer.
Hank and Belvaille, so long out of public scrutiny, suddenly find themselves at the epicenter of the galaxy with a lot of very unwelcome attention.
Click here to get this book for FREE
° ° ° ° ° ° ° ° ° ° ° ° ° °
A Ranger To Ride With (Lone Star Ranger Book 1)
by James J. Griffin


(29 Reviews)
Genre: Literature & Fiction
FREE for a limited time
Nathaniel Stewart's life changes in the blink of an eye when his family is murdered by a band of marauding raiders. They've made one terrible mistake… they didn't finish the job. Fourteen-year-old Nathaniel is very much alive and ready to exact the justice his mother, father, and older brother deserve.
Taken in by a company of Texas Rangers, he begins to learn what it means to survive in the rugged wilds of Texas. Each of the Rangers have something to teach Nate, as they come to call him, and he's a fast learner. When some of the same raiders later return, Nate proves his mettle when he saves the Rangers from being ambushed and wiped out.
A RANGER TO RIDE WITH is the first story in the new western series, LONE STAR RANGER. Look for A RANGER TO RECKON WITH, coming soon!
Click here to get this book for FREE
° ° ° ° ° ° ° ° ° ° ° ° ° °
The Reindeer Caper (The Dunbarton Christmas Mysteries Book 1)
by Valerie Tate


(19 Reviews)
Genre: Mystery, Thriller & Suspense | Mystery
FREE for a limited time
With a missing reindeer, a murdered elf, and a mayor one Christmas Carol short of a breakdown, it looks like Christmas festivities in Dunbarton are in danger of being cancelled – especially since Santa is in jail, charged with murder!
It's coming up to Christmas and everyone in Dunbarton is filled with excitement at the arrival of a reindeer, a gift from their twin town in Norway. But when Dasher disappears, children and parents alike are devastated, and the mayor fears an international incident.
In desperation, the mayor turns to the Mallorys to save the town's Christmas, but the more Chris and Alicia investigate, the more they realize it isn't just Christmas that's in jeopardy.
Click here to get this book for FREE
° ° ° ° ° ° ° ° ° ° ° ° ° °