Word on the street is we have a little skunk who likes to visit us each night, not a racoon. I can handle a skunk hanging out in my yard a lot easier than a racoon. In my childhood town, we had so many skunks running around it was called the Skunk Capital of the World.  It was so bad around my house in-particular, since we lived right on the edge of the woods, that I had even gone to school a few times smelling like a skunk. My nick name quickly became Pepe Le Pew. Don't feel bad for me though. When that happened I was sent back home where I was able to spend the rest of the day drinking chocolate milk and watching ThunderCats. YOOOOO!!!!!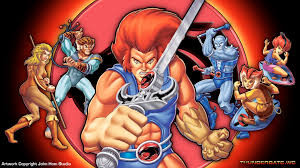 Rings On Her Fingers (Psychic Seasons Romance Series Book 1)
ReGina Welling


(100 Reviews)
Genre: Mystery, Thriller & Suspense | Romance
FREE for a limited time
Julie Hayward was not a believer in the paranormal. Newly engaged with a photography career just starting to take off, her life is almost comfortable. The only thing she lacks is enough money to repair the family home. But, when her best friend, Gustavia, drags her to a visit with a psychic thinking it will be a fun engagement gift, things get really crazy. A ghostly encounter provides a cryptic clue to the location of the lost family fortune and a warning that her fiance is not what he seems. Launched into a wild adventure, Julie must learn to listen to her heart, her intuition and the ghosts that will guide her in order to solve the mystery. Journalist, Tyler Kingsley gets drawn into the search. What red-blooded male could resist a treasure hunt? The idea gets his blood pumping and so does Julie. When he realizes that her fiance might be dangerous, he decides to protect her at any cost, even if he loses his heart. This is a clean, sweet, romance that combines mystery and humor with the paranormal.
Click here to get this book for FREE
° ° ° ° ° ° ° ° ° ° ° ° ° °
Hedon
Jason Werbeloff


(23 Reviews)
Genre: Humor & Entertainment | Humor & Satire | Science Fiction
FREE for a limited time
In 2051, the Bhutanese Empire rules post-apocalyptic Shangri with iron-fisted Buddhist compassion. Happiness is compulsory, but making everyone happy isn't easy in an overpopulated world. Breeders are ghettoed, homosexuality is mandatory, and Shangrians' happiness levels are strictly monitored by hedometers implanted in their heads. Become depressed, or feel too happy without helping others feel the same, and The Tax Man will get angry. Very angry. Gemini and Cyan, winners of the pregnancy lottery, are on the run. Cyan can't fall pregnant, and Gemini is addicted to the Experience Machine. Will they evade The Tax Man, and find a way to end the brutal pleasures of Shangri? The lovechild of Brave New World and The Handmaid's Tale, HEDON is gritty satire on a dystopia drunk with bigotry and positive thinking. "a one of a kind dystopian novel" "as politically depraved as anyone could desire" "this is storytelling at its best"
Click here to get this book for FREE
° ° ° ° ° ° ° ° ° ° ° ° ° °
In The Shadow of Babylon
John Schwartz

(92 Reviews)
Genre: Action & Adventure | Contemporary Fiction
FREE for a limited time
In The Shadow of Babylon is a mythical story incorporating parables handed down over several millennia. The demands of our modern multitasking lives often distract us from applying these proven life lessons that create a more satisfying, happy and fulfilled life. It is an intriguing myth with a powerful philosophical core that speaks to the importance of… creating ones own destiny through visualization… living in the present moment… controlling emotions and eliminating grief and sadness.
Baghdad is in chaos. Sunni and Shia, free from the dictator Hussein, revive their religious hatred. Then, without warning, the children of Iraq rise up in protest against the killings. In the Shadow of Babylon is a powerful story from the past and how its message changes the present. During the reign of the last ruler of Babylon, Saddam Hussein, a crypt lined with engraved gold panels protecting an ancient scroll (pre-dating Hamrabi by thousands of years) is discovered–it is the oldest writing in the world.
After the liberation of Iraq Alexandria Darshi, an Iraqi doctoral student and Bryan Feroz, a handsome professor of Middle Eastern studies at the University of Chicago, translate the autobiographical scroll of a warrior poet named Ayuba. When it is read during two worldwide television documentaries, moderate Arabs embrace the ancient warrior's secular voice. Threatened by the message, radical Islamists set out to kill the messenger. Ayuba, orphaned at age nine, wanders for two years in a barren desert inhabited by violent tribes. He is brutally enslaved by a band of reed gatherers. His rescue and adoption by a prominent tribal leader sets him on a course of adventure, war and fame. The courage, kindness and passion of a man who existed in 11,000 BCE touches the hearts of thousands of modern-day Iraqi children. Moved by Ayuba's wisdom and leadership they stand in peaceful protest against the raging jihadists. Many are slaughtered but, in the end, their example inspires the women of Iraq to join them in a nationwide demonstration of unity.
In the Shadow of Babylon follows an ancient warrior/poet's dramatic life via a high-tension timeline that is both exciting and inspiring, and at times humorous and heartbreaking.
Click here to get this book for FREE
° ° ° ° ° ° ° ° ° ° ° ° ° °
When Shadows Fall (The First Book of the Small Gods Series)
Bruce Blake


(25 Reviews)
Genre: Fantasy
FREE for a limited time
It rained fire the day the Small Gods fled. A hundred hundred seasons have turned since the Goddess banished the Small Gods to the sky, leaving the land to mankind alone.
For Prince Teryk, life behind the castle walls is boring and uneventful until he stumbles upon an arcane scroll in a long-forgotten chamber. The parchment speaks of Small Gods, the fall of man, and the kingdom's savior — the firstborn child of the rightful king. It's his opportunity to prove himself to his father, the king, and assure his place in history. All he needs to do is find the man from across the sea — a man who can't possibly exist — and save mankind. But ancient magic has been put in motion by a mysterious cult determined to see the Small Gods reborn. Powerful forces clash, uncaring for the lives of mortals in their struggle to prevent the return of the banished ones, or aid in their rebirth. Named in a prophecy or not, what chance does a cocky prince who barely understands the task laid before him stand in a battle with the gods?
Click here to get this book for FREE
° ° ° ° ° ° ° ° ° ° ° ° ° °
Western: An Unlikely Friend (Cohen Family Saga Book 2)
Luis Antwoord


(15 Reviews)
Genre: Westerns | Historical Fiction
FREE for a limited time
A young boy named Orrin Cohen stumbles upon a large humanoid footprint on the backside of his families ranch while out checking on the young steers after his father and mother are killed in a stagecoach robbery. He believes it to be the big foot his brother told him about. Not wanting to be called a yellow-belly by his brother Samuel he follows the trail to an adventure.
Click here to get this book for FREE
° ° ° ° ° ° ° ° ° ° ° ° ° °