Yup. That's Jackie stealing food from my pup Jethro. It's not like I want him to get mad at her, but I feel like he should at least move a bit. Maybe just let her know to leave him a little kibble.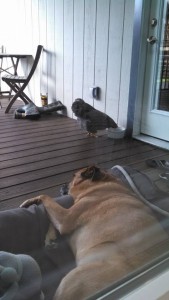 Scarlet and the Dragon's Burden (The Scarlet Hopewell Series Book 2)
Brandon Charles West


(11 Reviews)
Genre: Children's eBooks | Teen & Young Adult
FREE for a limited time
Trapped in a ruined world, Scarlet offers hope to those who find their way to the Sanctuary, but her own faith is fading.She misses her family and, unable to learn the magic she needs to face Prince Thanerbos, is afraid she'll never fulfill her destiny as the legendary For Tol Don. But when word reaches Scarlet and her companions that they might not be the only ones stranded in the nonmagical world, she sets out on a new quest.
Meanwhile, Charles and Xavier seek the help of the dragon Morelpis. If what the mountain dwarves tell them can be trusted, grief has turned the once peaceful dragon deadly. Yet if he's to save his daughter, Charles has nowhere else to turn…
With pirates, dragons, dwarves, strange natural phenomena, riddles to solve, and twists to keep you guessing, the sequel to Scarlet and the Keepers of the Light expands the world of Satorium in ways both surprising and poignant.
Click here to get this book for FREE
° ° ° ° ° ° ° ° ° ° ° ° ° °
Claiming Victory: A Romantic Comedy (The Dartmouth Diaries Book 1)
Beverley Watts

(78 Reviews)
Genre: British | Contemporary Fiction | World Literature | Humor & Satire | Romance
FREE for a limited time
Claiming Victory is a funny contemporary romantic comedy that will appeal to every woman who still believes fairy tales can come true…
… "So let me get this straight Admiral. Your plan is to somehow get the most famous actor in the world, to fall in love with your daughter Victory, who we both love dearly, but – and please don't take offense Sir – who you yourself admit is built generously across the aft, and whose face is unlikely to launch the Dartmouth ferry, let alone a thousand ships…"
Victory Shackleford is a spinster, or at least well on the way to becoming one. She is thirty two years old, still lives with her father – an eccentric retired Admiral, and the love of her life is a dog.
She thinks her father is reckless, irresponsible, and totally incapable of looking after himself. He thinks his daughter is a boring nagging harpy with no imagination or sense of adventure and what's more, he's determined to get her married off.
Unfortunately there's no one in the picturesque yachting town of Dartmouth that Tory is remotely interested in, despite her father's best efforts.
But all that is about to change when she discovers that her madcap father has rented out their house as a location shoot for the biggest blockbuster of the year. As cast and crew descend, Tory's humdrum orderly existence is turned completely upside down, especially as the lead actor has just been voted the sexiest man on the planet…
Full of romantic humour, Claiming Victory is a must for fans of funny love stories – especially quirky British Romantic comedies.
Click here to get this book for FREE
° ° ° ° ° ° ° ° ° ° ° ° ° °
Rose Hill (Rose Hill Mystery Series Book 1)
Pamela Grandstaff

(34 Reviews)
Genre: Mystery, Thriller & Suspense
FREE for a limited time
Nestled at the foot of Pine Mountain, Rose Hill has one traffic light, one patrol car, and one cold-blooded killer.
When rich and rotten Theo Eldridge is found bludgeoned to death in the local veterinary clinic, Rose Hill police chief Scott Gordon is forced to work with ambitious county investigator Sarah Albright. Unfortunately Sarah seems more interested in seducing Scott than in solving the crime.
Scott's crazy about Maggie Fitzpatrick, but she's still grieving over the mysterious disappearance of the love of her life. Although determined to resist the powerful chemistry between them, Maggie finds herself deeply involved with Scott's investigation, and battling emotions she can no longer deny.
It's a bitterly cold January in Rose Hill. As Scott and Maggie untangle the sticky web of Theo's shady business dealings, they uncover dark secrets that may connect Theo's murder to another committed twenty years before.
Click here to get this book for FREE
° ° ° ° ° ° ° ° ° ° ° ° ° °
The Bank Robber
Robert Broomall


(30 Reviews)
Genre: Action & Adventure | Westerns
FREE for a limited time
The story of an outlaw on the run, the girl he meets in the desert, and the posse that's chasing him — led by his best friend.
Swede Burdette is a legend in Texas — as a Texas Ranger, soldier, Indian fighter. Things went bad while he was away at the war, though, and when he came back, he turned outlaw.John Kirby is a Texas Ranger who always brings in his man, usually dead.When Swede robs the bank in Temperance, Kirby leads the posse that goes after him.Kirby was Swede's boyhood friend, but now he's vowed to put an end to Swede's depredations.He also married the woman Swede loved.Swede is on the run to Mexico when he encounters a girl named Rosie, a prostitute, the only survivor of an Indian raid.If Swede leaves Rosie in the desert, she'll die, so he takes her with him, even though she'll slow him down enough that the posse is bound to catch him…
Click here to get this book for FREE
° ° ° ° ° ° ° ° ° ° ° ° ° °
With Love, The Argentina Family: Memories of Tango and Kugel; Mate with Knishes
Mirta Trupp


(25 Reviews)
Genre: Biographies & Memoirs | Politics & Social Sciences
FREE for a limited time
With Love, The Argentina Family ~ Memories of Tango and Kugel; Mate with Knishes is an enlightening and inspirational account of a young, immigrant girl. With a mother that never stops crying about The Argentina Family and a father who procures employment with an international airline, her life is divided in between her adopted country and her native land.
Dramas and delights abound with a long distance, whirlwind relationship unfolding in the aftermath of Argentina's "Dirty War", including a frightening interrogation with the Argentine Police and an astonishing encounter at the American Consulate.
Follow the sometimes comical, sometimes poignant trials and tribulations of a girl coming to terms with her Jewish heritage, her Argentine traditions and her fierce American patriotism.
Click here to get this book for FREE
° ° ° ° ° ° ° ° ° ° ° ° ° °